Get Jio 4G Sim For Free
Amazing Trick to Get Reliance Jio 4G Unlimited Net/Calling Preview Offer Sim For Free (Samsung Device Trick)
Reliance and Samsung is all set to launch Jio 4G Preview SIM Offer in partnership with Reliance Jio soon.
This Reliance Jio 4G Preview Offer will be available for select Samsung smartphones(Described Below) and will let you enjoy unlimited Free Internet With Super Fast 4G, Free SMS, Free Calling , Free Video streaming and EveryThing Free and Jio Premium apps for 90 days/3 months.
We have confirmed With Our Sources and Reliance Digital Stores About This Reliance Free 4G Preview Offer and Successfully Tested in Our Samsung A7 Device.
JIO 4G Free Preview Samsung Devices List
Reliance Free Jio 4G Preview Offer Will Be available For Below Mentioned Samsung Devices
Samsung Galaxy A5 2015
 Samsung Galaxy A5 2016
Samsung Galaxy A7 2015 and
Samsung Galaxy A7 2016
Samsung Galaxy A8
Samsung Galaxy Note 4
Samsung Galaxy Note 5
Galaxy Note 5 Duos
Samsung Galaxy Note Edge
Samsung Galaxy S6
Samsung Galaxy S6 Edge
Samsung Galaxy S6 Edge Plus
Samsung Galaxy S7
Samsung Galaxy S7 Edge
A8 VE,

Galaxy A3,
Galaxy A5,
Galaxy A5 2016,
Galaxy A5 Duos,
Galaxy A7,
Galaxy A7 2016,
Galaxy A8,
Galaxy Alpha,
Galaxy Core Prime,
Galaxy Grand Max,
Galaxy J max,
Galaxy J1 Ace,
Samsung Galaxy J1 Ace,
Galaxy J2,
Galaxy J2 (2016),
Galaxy J2 Pro,
Galaxy J3,
Galaxy J5,
Galaxy J5 (2016),
Galaxy J7,
Galaxy J7 (2016),
Galaxy K Zoom,
Galaxy Note 3,
Galaxy Note 4,
Galaxy Note 5,
Galaxy Note 5 Duos,
Galaxy Note 7,
Galaxy Note Edge,
Galaxy S 5 Plus,
Galaxy S4,
GALAXY S4 4G,
Galaxy S4,
Galaxy S5 Neo,
Galaxy S6,
Galaxy S6 Edge,
Galaxy S6 Edge Plus,
Galaxy S7,
Galaxy S7 Edge,
Grand Prime,
ON5,
ON5 Pro,
ON7 & ON7 Pro

Free Jio SIM Preview Offer Is Now Available for All Samsung, LG, Asus , Panasonic 4G Devices check Out Here Full Device List for JIO Preview Offer
How to get JIO 4G Free Preview Offer On Samsung Devices
First Of All you Have  to download the MyJio app on any of Above Given eligible Samsung smartphones.
2. Now Open The app and check if the offer is available in your location
3. Now You Need to generate the offer code, which includes a bar code,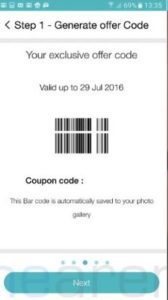 4. After That choose identity and address proof that you are going to submit To Offline Store
5. Done !!! 🙂
6. Go to Nearby Reliance Digital Store and collect your Free JIO 4G SIM at a Reliance Digital or Dx Mini Store after submitting the identity, address proof and your photograph.
Now How to Activate JIO 4G SIM in Samsung Devices
One you Got the SIM, Just insert that JIO 4G SIM in your Samsung phone,
Then you need to dial 1977 to activate your Jio SIM through tele-verification.
You will receive message on your mobile number and your email ID once the activation is complete.
That's It This is Dream 4G start For Samsung Users, Now you thinking about Non Samsung Users Here what you can Try
Reliance JIO 4G Free Preview Offer For Non Samsung Devices
It is same like Smasung E5 E7 offer with paytm which we have looted last year… We already have post.. You can use search….. And Thus You can Do Same For This Offer
P.S :- You May Asked Phone Bill At Reliance Digital Stores ,So First Confirm With Nearby Digital Store
Free Jio Sim Trick 2
Trick to Get Free Jio Sim From All Non Rooted Devices
!st of All Just Download My JIO App from Playstore   Here
Open the My JIO app In Your Android Device and you will see a list of 10 Jio apps.
Now Click On Download All And It will start downloading one by one.
Main Step:-After downloading 10 Jio Apps, close My Jio app and Disconnect Your Mobile Internet 
Again open My Jio app and you will see Open option beside My Jio app option. Just click Open.
Note: Follow the above step without Turning off your internet.
Once you open My Jio app, you will see an offer saying Get Jio Sim. Just click on Get Jio Sim button.
 Coolz !! Generate Barcode Take a Print Out and Go to NearBy Store to Take Your Gio Sim….
P.S:- Jio Store Will Ask For Original Bill and Device,You have to Convince Them To Get SIM
Here is Collection Of All useful Free Jio 4G tricks
How To Use Free Jio 4G Sim In 3G Phones (All Android)
Yes You Heard It Right, We can use Free Jio 4G Sim in any 3G Android Device As There is No Need To buy Any 4G Phone For It.
Currently we can Use Free Jio 4G SIM in 3G Phones With Below 4 tricks
MTK Engineering App trick To Use Jio 4G In 3G Phone
Qualcomm Devices trick
Service Menu With Dialler trick
Xorware Xposed trick
Yes You have to try any of The Above Given trick and i am Sure its Definiately Will work in 3G Device
How To Generate Jio Barcode From Any 2G / 3G / 4G Devices
Basically Jio Barcode is Essential Thing To get Free JIO 4G SIM. And You must Have to generate The Jio Barcode To Get free Jio SIM otherwise You will Not get The SIM.
I have seen many of Our Readers Are getting trouble in generating Jio Barcode From Their Android Devices. So Lets Gets Started To Generate The Jio Barcode
By This tricks You can generate the Jio Barcode from Any Android Device, I used Word Any means You can generate The JIO BARCODE from Even all 2G and 3G Devices also.
Jio4GVoice App-How to Activate Jio SIM From all 3G Phone || How to Call From Jio Sim to any Mobile
To Use Free Calling Feature of Jio One Must need Of VoLTE and VoLTE enabled Device as Your Call Will Not connect from Simple 4G Devices
We have some alternate way for This also and i will Show You how You can Televerify Your Jio sim from Non Volte Phones With Jio4GVoice ( jiojoin) 
Jio Has Some Unique Need For Direct Free Calling and that is VoLTE phone , If You Don't have VoLTE Phone Then You cant Make Calls Through JIO SIM, Thogh We have solution For That also
Free Jio Trick To Bypass & Convert 2GB data into unlimited
If you have got The Jio Sim , i hope you have already One With Our tricks And You Are New Jio user Then You will get 2GB as Complimentry Offer with 100 Free Calls and 100 FREE SMS.
If Your Device is not in Officially Jio Supported List Then You can't get Unlimited Free Jio 4G Post This 2GB.
And you Must Have to ByPass And Convert this 2GB data Into Unlimited, You can Easily Do this With Our exclusive 4 Tricks
( For All Phones) Jio Welcome Offer-Offer-Get Free Jio 4G,SMS,Calls,Videos,Apps This Full year
After Reliance Jio Preview Offer Some Official supported Android Handsets Like Samsung and LG Phones , Jio Has Started Jio Welcome offer- WHere They are Giving Away Free 4G Jio data Unlimited , Free HD calling, Free Movies , Free Videos Streaming , Free SOng Streaming , And Many More Thing Absolutely For Free
This Jio Welcome Offer is Extended Till This Full 1 year and Any Android users can get Benifit Of This Offer
How to Port your Number in Jio 4G (Full Guide)
If You want to Enjoy Jio 4G Services and Jio Welcome Offer with Free 4G Jio data Unlimited , Free HD calling, Free Movies , Free Videos Streaming , Free SOng Streaming , And Many More Thing Absolutely For Free Without Losing your Mobile Number Then This Guide Is for you
Yes Now You can Port Your Existing Airtel, Vodafone , Idea , Mobile Number In Jio Network With Full Guide
Free Jio sim-How to Get Unlimited 4G With JIOFI Device
.