(*MOST WANTED*) COOLzTRICKS OFFICIAL CHANNEL OF WHATSAPP BROADCAST IS LIVE AND OPEN -JOIN US TO GET INSTANT LOOTS AT REAL TIME
---
Hello Guys,
This news will delight you all for sure. As at last After so many requests we have decided to start coolzTricks's " OFFICIAL" Whatsapp Broadcast Channel to let you inform instant Loots and Deals And Tricks in Just Real Time.
As you all know that In this days some Loots comes in just short span of time and before we update it in our coolzTricks, we get news that thats loot is now over.So we are not getting Real Benefit of some loots.
And we are living in whatsapp atmosphere all over and i think it will be wonderful to you get connected to your Favourite CoolzTricks all day.
Like if any heavy loots come across our CoolzTricks Team we will instantly notify you via our whatsapp Broadcast List
So that you can Loot as much as possible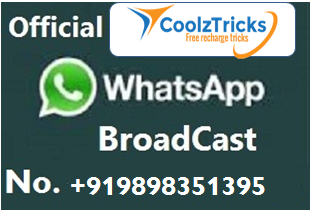 HERE IS HOW TO JOIN COOLzTRICKS WHATSAPP BROADCAST LIST
1. If you want to join Biggest Adda of Loots-CoolzTricks's Official Broadcast list then just Go to your contacts
2. Now make a

new Contact

And name it

"

CoolzTricks

"

And Add This Number
+919898351395
And just Save it On The Name Of coolzTricks
3. Now open your Whatsapp > Contacts and Refresh it and then Search For CoolzTricks
4. Now as you message your Friends simply message us Like – "JoinME Name"
Like "

JoinMe Pratik

" or "

JoinMe Raj

" (Without ").
5. we Request you please wait after join message….we will add you in coolzTricks Official whatsapp Group as soon as possible.
we are doing it manually so it will take some time….
6. Being with us in our broadcast list you and your number is 100% Secured we will never ever try to make any types of Pranks or Spam to your Number. You Number and your identity will be totally safe with us we will never share it with anyone else. So Feel Free.
---
READ SOME RULES BEFORE YOU JOIN
Personal Messages to us in Whatsapp will not be replied.We will ignore it.So Dont Try to message or Reply our Message
When we share any Loot or Trick via Broadcast don't Reply with any Smilies or Make Comments there. If you want you can Comment on our Website or can mail us.
Please Don't Message us for any tricks and loot offers ,If we get to know anything like this we will definitely share it.
If you Try to spam Us more then 2 time we will Remove you From Our Channel
---
HERE ARE SOME MORE FEATURES OF OUR CHANNEL
If you want to share any Trick or something like Loot that can be helpful then he can simply Message that particular message with us,If we find it helpful to others we will surely share it on coolzTricks giving he the Credits.
We may run Free Recharge/free Paytm Giveaways anytime Here Or post Some Biggest Loots Here which we will not let you know there, So every time try to be updated with us Only Here also.
We will Share only Exclusive Stuffs there like loots or some thing else which has short validity. For Daily posts and full loots posts you have to visit our blog regularly.
---
Request:- Please dont comment your number here….Many other fake peoples may use it to add you in fake group….
.