DHOOM TRICK-DOWNLOAD TASKBUCKS APP AND GET UNLIMITED PAYTM / MOBIKWIK / FREE RECHARGE CASH- GET 40 RS. PAYTM CASH PER REFER AND ALSO GET FREE 3G DATA NOW + 2 NEW video Trick
UPDATE 3 : NEW STORIES TRICK ADDED WITH VIDEO PROOF … CHECK BELOW THE MAIN TRICK …


UPDATE:- TaskBucks is Now Giving
Rs 20 +20 MB 3G For 1st Friend
Rs 30 For 2nd Friend
Rs 40 For Next Each Friend + Bonus 100 MB 3G Data
Hi guys,
Last time we have Looted taskbucks with Easy Article sharring Trick with browsers You can view That TaskBucks Trick With Video Proof
Here
Now Taskbucks is More secure Now But we have Found another Unlimited Paytm Trick From Taskbucks Exclusively.. which we will post in another separate post in short Time
Till Now You can Earn Real money In dollar With 2 superbly working Apps With Yroo Trick and AppDango Trick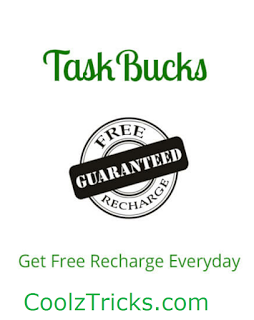 google_ad_client = "ca-pub-1399806074062216";
google_ad_slot = "6443528289";
google_ad_width = 200;
google_ad_height = 90;
Yes guys here is another Big Loot chance to fill out our Paytm wallets with Refer Bonuses. Taskbucks giving away rs.150 paytm cash for only referring 3 Friends.
Must Read:-Free Recharge
HERE IS HOW TO FREE RECHARGE / PAYTM / MOBIKWIK WITH Taskbucks APP ( This trick may lead to block your account so do not try if you have more money in your account )
1. 1st You have to download Taskbucks App from here –
[CLICK HERE]
2. After Download Just Open the App and Fill Out your Mobile Number and You can Put This Refer Code below- CEJ6CSCD
3. Then with sms they will Auto verify your Number
4. Now From Home page Install any1 apps in order to get RS.40 paytm cash and working referral link
5. Now After downloading 1 apps Go to menu and Click Invite & Earn Tab and get your Refer link
6. Share your Refer link with your friends
7. You will get RS.25 paytm cash per successful Refer.
NOTE:- YOU MUST HAVE TO DOWNLOAD 1 APPS TO GET RS.40 paytm Cash
HERE IS THE LATEST HACK OF " STORIES " SECTION OF TASKBUCKS APP
BEFORE 6 MONTHS AGO WE POSTED THIS TYPE OF TRICK SEPARATELY FROM HERE EXCUSIVELY … IT DISCONTINUE TO WORK FOR SOME USERS … SO HERE IS MORE EASY TRICK 🙂 ENJOY !
1. 1st of all make group of you and your friend on whatsapp and remove him.
2. Now download " UseLess " named apk. [
CLICK HERE
]
3. Now install it … then open TaskBucks app.
4. Go to stories section and click on " Share to get 2 ₹ " and click on " whatsapp " and now click on the group you made in step 1.
5. Now click on the link in that group and open via UseLess app.
6. In " Enter Load Count " write " 6 " ( This will very upon stories … taskbucks have wrote in all stories to open it X times and generally X = 6 )
7. Write " 10 " in " Max Wait Time " if you are using good internet connection.
* If your internet connection is slow then increase the time of 10 to 50 *
8. Select " Random Identity " and click on Power shaped button.
9. Now wait for some time AT LEAST 1 MINUTE MAKE YOUR DEVICE FREE FROM YOUR HAND and soon you will get notification and sms from taskbucks that you have been credited X Rs. successfully. ( Gen. here X = 2 )
HERE IS THE PROOFS OF TASKBUCKS HACK TRICK :~
STATIC PROOF :
VIDEO PROOF :
NOTE : YOU CAN SHARE MAXIMUM 2 STORIES PER DAY … SO YOU WILL GET ABOUT 4 Rs. PER DAY FOR FREE IN JUST 5 MINUTES ! 😉


HERE IS UNLIMITED TASKBUCKS REFER AND EARN TRICK(*EK DUM NEW*)-2016 UPDATED
**Requirements For This Taskbucks Trick
~~Rooted Mobile ( only 1 )
~~ Xposed installer –
CLICK HERE
[ install the apk for your device … open the app … and click on " install/update " … device will restart … and you must enable all other apps by tick on it in xposed app / modules … and the restart phone ]
~~ PHONE ID CHANGER PRO APP [
CLICK HERE
]
~~ Fast reboot app [
CLICK HERE
]
Use fast reboot app everywhere when they ask to reboot … click on app multiple times until it shows memory = 0
Here start The Taskbucks Fake SMS Trick
1. 1st of all Complete the above mentioned steps For Taskbucks If You Are New Users…..Now Note Down Your Refer Code
2. Now its Time to Clear Cache, Clear Data & FORCE STOP TAskbucks app And Then Change IMEI and Android ID of Your Device

3. change google advertising id from google settings app.


TO DO 2nd AND 3rd STEP IN SHORT CUT JUST DOWNLOAD PHONE ID CHANGER APP and RANDOM ALL
** Real Taskbucks SMS bypass Trick Start from here **
4. Create A New Contact In Your Phone With Name and Number Like Below
For e.g :-
Name :- DZ-TBUCKS
Phone Number :- DZ-TBUCKS (Would be Different Everytime)
~~Hey Wait i know You are unable to Save contact without numeric letters on Phone …Now what you need Is A OTP SMS from TaskBucks Like Below which you had get in previous time while making any taskbucks account.
Now Download An App Called
Textra
from Here-
click Here
(if already downloaded then ignore)
Now Open Textra App Then Navigate to Your messages and select TaskBucks OTP sms >> Now Click On "
D Sign
" On Top Right corner
>> Then Click On create New Contact (SIGN IS IN TOP RIGHT CORNER) In Textra App >> You can see Mobile Number like DZ-TBUCKS There...copy same In Name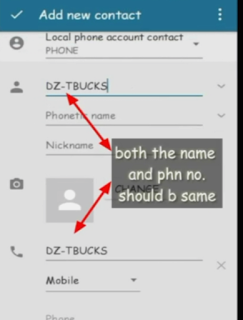 5. Now Open Taskbucks and You Need To enter Fresh Mobile Number in TaskBucks And Put Your Refer code Or Put This-5U88RQ And submit.
6. Now, Just Open Fake Text Message App.
7. Just Choose The Contact, You Created With DZ-TBUCKS Name.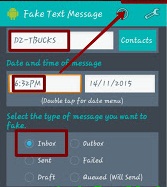 8. Now Choose Time 1 Minute More Than the Present Time.
Put The OTP Message Which you have Recieved in New Entered Mobile Number. And Choose Inbox option** Enter True OTP**
9. At Last Just Click On Fake.

10. Bingo…!! You have Bypaased Auto verification Process.

[ after that if you are getting error of " something went wrong " then change all values of taskbucks and play store from donkeyguard..change ur android id , device id , phone no , sim serial no and again check …its 100% working … this process must done after every referal if you are getting " something went wrong " error ]

11. Now To get the Fast Credits just Download ViralShots App From List or You can use Backup Apk For it to save data

12. Repeat Above All Steps for Taskbucks Unlimited Earn
Taskbucks Tricks Unlimited PAytm Cash Video
Here is video of Taskbucks Refer and Earn Unlimited PAytm Trick…
Uploaded on DatafileHost so Download It if You are facing any difficulty-Here is
[Taskbuck Trick Video]
Follow The Steps And dont forget to Change playstore Gmail Id everyTime
Video Credit Goes To our Hourly Reader and Creator- Mr.cool
HERE IS PROOF:-
SO GUYS DOWNLOAD THIS TASKBUCKS APP AND GET UNLIMITED PAYTM CASH
[click Below Share Buttons]
google_ad_client = "ca-pub-1399806074062216";
google_ad_slot = "6443528289";
google_ad_width = 200;
google_ad_height = 90;
.