BIGGEST LOOT:- NIGHTSTAY APP TRICK- NOW GET Rs.1000 FREE ON SIGNUP + REFER N EARN ONEPLUS 2 SMARTPHONE FOR FREE
Hello My Sweet Readers,
Refer and Earn seems Trend Now a days as all the Indian apps have special Refer and Earn Section on it. But we can get big Loots With This Refer campaigns
Night stay is Similar app Of Zo Rooms And oYo Rooms but The biggest Different is You are Getting Free Rs.1000 Credit On signUp with Our Exclusive code + You can use this 100% money while Booking down any Hotel Near Your City Or in Your City..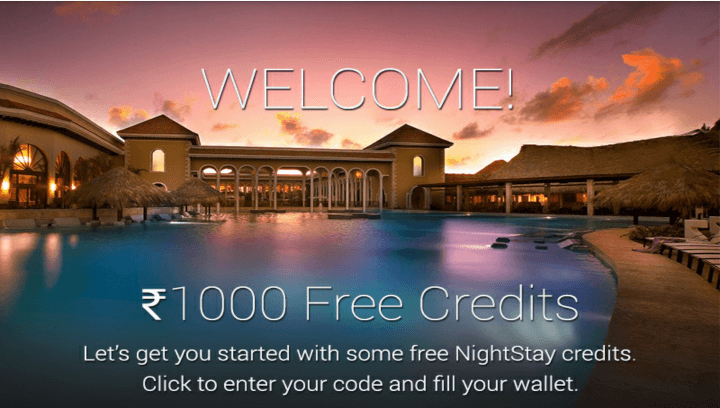 google_ad_client = "ca-pub-1399806074062216";
google_ad_slot = "6320223482";
google_ad_width = 200;
google_ad_height = 90;
So This Night Stay App is the last minute app for booking boutique and premium hotels at highly discounted rates in India. Currently available in New Delhi, Mumbai, Bangalore, Goa, Hyderabad ,Ahmedabad & Chennai.
Sign Up and Get Upto Rs.1000 Free Wallet Cash + Refer and Earn even more cash.
Gift Rs.1000 to your friends and get Rs.1000 as a Reward of referring your frined when your friend makes their first booking on NightStay App. Now Start Sharing and Start Earning now.
HERE IS HOW TO GET Rs.1000 FREE ON SIGNUP IN NIGHT STAY APP
1. 1st of all just Download NightStay App from here : [Click Here]
2. Now Just Open the Nightstay app and Select your City or Nearby City.
3. Now after selection of City just click on Menu and Touch on Free Rooms Option
4. Then You have to Sign Up for a New Account There
5. Now select Signup with email and fill out details like name, number, email etc.
*Try to fill it genuiely as it may use full to book hotel later or Win One Plus 2
6. Mobile Number verifiction is no necessory

7. Now To Get Free Rs.1000 just Enter Promocode – COOLZTRICKS978
Once you apply my code, you will get Rs.1000 Credited in your wallet instantly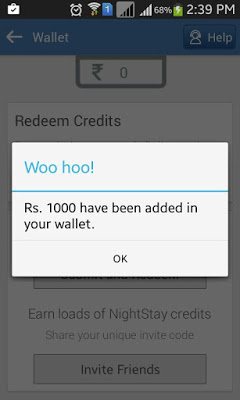 Refer and Earn as much as possible and use it to book rooms for free!
NIGHT STAY APP- SOME T & C
You can use 100% of your NightStay Credits to book rooms
Taxes and Service Charges are Additional.
NightStay is Currently Available in Delhi, Mumbai, Bangalore, Chennai, Hydrabad and Goa.
google_ad_client = "ca-pub-1399806074062216";
google_ad_slot = "6320223482";
google_ad_width = 200;
google_ad_height = 90;
NIGHTSTAY APP TRICK- NOW GET Rs.1000 FREE ON SIGNUP + REFER N EARN ONE PLUS 2 SMARTPHONE FOR FREE