[*LOOT*] AMAZON.IN TRICK – 300 Rs. GV ON ORDERS OF 500+ Rs. + REFER AND EARN

Update:- Still Live for Chennai Users


Hello Friends,
Here is amazon.in trick.
New user will get 100 + 200 Rs. GV while old will get 200 Rs. GV on minimum order of 500 Rs.
The sad thing is 200 Rs. GV offer is only for today (14 December, 2015) so loot fast.
    google_ad_client = "ca-pub-1399806074062216";
    google_ad_slot = "6320223482";
    google_ad_width = 200;
    google_ad_height = 90;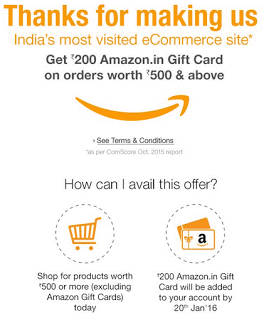 HERE ARE THE STEPS TO GET 200 / 300 Rs. GIFT CARD ON ORDERS ABOVE 500 RS. :~
1. If you are new user than sign up on amazon.in by
CLICK HERE
to get 300 Rs. GV and if you are old user then make account from the same link.
If you do not make new account you will get only 200 Rs. GV.
2. Now add product / multiple products to your cart and cart value must be of 500 or more rs.
You can not add gift cards or kindle books to your cart.
3. Now proceed to checkout and pay.
4. You will get 100 Rs. GV on order delivery + 200 Rs. GV on 20 January, 2016 (New users will get both but old user will get only 200 Rs. GV.)
ABOUT REFER AND EARN TRICK OF AMAZON.IN WEB :~
1. After making your account
CLICK HERE
and share your link to your friends and family.
2. Once they sign up and order above 300 rs. He will get 100 Rs. And you will get 200 Rs. After delivery of the product.
3. Also if he order today then he will get more 200 Rs. GV on 20 January.
TERMS AND CONDITIONS :~
● COD orders will also be eligible for the trick.
● All gift cards have 1 year validity.
~~~~Don't forget to share this post and also like fb page
Click Here
    google_ad_client = "ca-pub-1399806074062216";
    google_ad_slot = "6320223482";
    google_ad_width = 200;
    google_ad_height = 90;
AMAZON.IN TRICK – 300 Rs. GV ON ORDERS OF 500+ Rs. + REFER AND EARN – DEC'15