FreeBies Offer by Horlicks : Buy 1 kg Pack of Horlicks & Get 2 Movie Tickets Free
Hi guys,


Here is the Freebies offer Provided By Horlicks, who dont like Free Gifts and Free Recharge Offers.


Recently internet marketing is very popular in our country. Almost all brand are offering such offers on
their products as a recharge or as a sample. And now it's time for Horlicks. Horlicks is also started a new campaign. They are giving 2 movie tickets for free on purhcase of 1 kg Pack of Horlicks.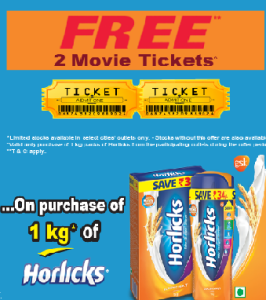 Hurry up and avail this offer as soon as possible.
google_ad_client = "ca-pub-1399806074062216";
google_ad_slot = "6320223482";
google_ad_width = 200;
google_ad_height = 90;
Steps to Avail This Horlicks and Free Movie Tickets offer :
1. Visit Market and purchase latest 1 kg pack of Horlicks.
2. You will find a voucher number on the pack.
3. To register, SMS " HORLICKSONE " followed by " Voucher No " to 09902391200.
4. To place a booking request, call on 080 4055 4860 from
your registered mobile no. between 10:30 am and 5:30 pm from
Monday-Friday but it is Off in the weekends.
5. Representative will call you 24 hours prior to the movie screening
date and book your tickets. An SMS & E-mail confirming the booking
will be sent out.
6. Visit the venue, show the SMS (M – Ticket) or Printout of E – Ticket and enjoy the offer.

Terms & Conditions of This Horlicks and Free Movie Tickets offer :
This voucher entitles you to 2 free movie tickets at participating cinemas from Monday-Friday.
A minimum of 2 days and a maximum of 7 days advance notice is mandatory to make a booking.
If your mobile number is registered under the "Do Not Disturb" registry, you will not receive any Auto-Registration response. However, once you register via SMS, you can call 080 4055 4860 to place a booking request.
Our concierge representative will call you 24 hours prior to the
scheduled date, provide information on theatres and book your tickets.
An SMS & E-mail confirming the booking will be sent instantly.
In case of non-availability, we will provide you with an alternate
slot or venue.
Once booked, the ticket cannot be cancelled or rescheduled. If you
do not show at the venue, your voucher will be deemed as redeemed and
cannot be re-used.
The voucher is valid for best available silver class seats and not
valid for special screenings, paid preview, premier and gold class
seats.
Walk-in customers without prior booking will not be entertained at the venue.
Only one voucher per booking will be entertained. Multiple vouchers cannot be booked together.
This offer is subject to promotional availability in select cities till the promotion duration or the stock lasts.
Maximum of One voucher may be used per person, per household, per
mobile number, per venue, per booking group at one occasion.
Offer excludes Public Holidays and Bank Holidays.
This offer is applicable only on 2D movies and excludes 3D movies, Imax and other special screenings
All offers supplied by Premier Sales Promotions Pvt. Ltd., PO Box
25246, Bangalore -560025, India.
Ph: 080 4055 4860. E-mail:
feedback@bigcity.in. All queries should be sent to this address.
Note : Last Date to register 01/01/2015. Offer valid till 15/01/2015
google_ad_client = "ca-pub-1399806074062216";
google_ad_slot = "6320223482";
google_ad_width = 200;
google_ad_height = 90;
Offer by Horlicks : Buy 1 kg Pack of Horlicks & Get 2 Movie Tickets Free