**COOLzTRICKs** SUPER SUNDAY FREE RECHARGE OF RS.500 GIVEAWAY TO OUR BELOVED VISITORS
Hi Guys,
Hope all you doing well in your Life and Earning well with your coolzTricks.
Its super Free Sunday and we Want to make it More delicious with
Free Recharge Giveaway here on CoolzTricks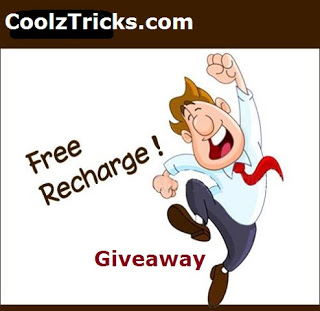 We have a reasons for This Free Recharge Giveaway,
first
of all your favourite coolzTricks is now Ranked Under
50k alexa worldwide and 3k in india
and thats huge milestone for us.
Second Thing is Official coolzTricks Android App is coming very soon on Google Playstore and we are giving Early Access of CoolzTricks app for winners of this free recharge giveaway
.
our motto is to post only loot Tricks No Bakwaas only Recharge " WE ARE SPAM FREE WE ARE LOOTERS "
google_ad_client = "ca-pub-1399806074062216";
google_ad_slot = "6320223482";
google_ad_width = 200;
google_ad_height = 90;
HERE ARE PRIZES FOR THIS COOLzTRICKs FREE RECHARGE GIVEAWAY
1. 5 Random peoples will get Free 50 Rs. Recharge + **CoolzTricks Premium app**
2. 8 Random peoples will get Free Rs.20 Recharge + **CoolzTricks Premium app**
3. 10 Random peoples will get Free Rs.10 Recharge + **CoolzTricks Premium app**
4. 10 Random peoples will Get Early Access to CoolzTricks Premium Android app
HERE IS HOW TO PARTICIPATE IN FREE RECHARGE GIVEAWAY
We Tried to make This Free Recharge Giveaway easiest so that max number of visitors can get benifits of prizes
** open This Post in Chrome mobile **
imp step:-
Lastly write and tweet your mobile number on our twitter page with your name…
.
follow all above mentioned steps
enjoy free recharge in your mobile
Enjoy
google_ad_client = "ca-pub-1399806074062216";
google_ad_slot = "6320223482";
google_ad_width = 200;
google_ad_height = 90;
**COOLzTRICKs** SUPER SUNDAY FREE RECHARGE OF RS.500 GIVEAWAY TO OUR BELOVED VISITORS