LOOT OF THE DAY:- GET 2 FREE PVR CINEMA MOVIE VOUCHERS OF " Baankey Ki Crazy Baarat " FROM JUSTDIAL APP absolutely free…
Hi all,
Last time we have looted around 5k in JustDial App Trick with their Refer and Program and best thing about that is they are giving away Refer and Earn Money directly into Bank so thats the biggest Loot till Now,, we have already posted Proof Of That Trick, You can follow that Post Here
Now They are giving away Free Movie vouchers of PVR cinemas of Movie " Baankey ki Crazy Baarat" all you have to do is just follow below procedure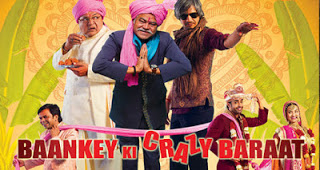 google_ad_client = "ca-pub-1399806074062216";
google_ad_slot = "6320223482";
google_ad_width = 200;
google_ad_height = 90;
HERE HOW TO GET FREE MOVIE VOUCHERS IN JUSTDIAL APP
1. 1st of all just download JustDial App From Here – [
click here
]
2. Now just Open the JustDial app and click on Agree & Continue button.
3. Write down

Name : [ YOUR NAME ]
Mobile Number : [ YOUR MOBILE NUMBER ]

AND NOW MOST IMPORTANT


Then click on words " REFERED BY " and put this no. " 7802842414 "
4. Now it will verify your mobile number automatically.
5. Now you will be messaged with your Promocode of movie from JustDial
6. you have to Redeem it on http://pvrcinemas.com before 1st October.
HERE IS HOW TO REDEEM VOUCHERS OF MOVIE
Your Voucher can be redeemed online at www.pvrcinemas.com
You have to Select City > Movie > Cinema > Time > Seat > Proceed.
Now just Click on M-Coupon or Start Pass Option in the checkout page.
Apply the Provided Promo code. which you have got from App
Pay Rest of the amount (Use Paytm and Get 25% Extra Cashback).
Enjoy the Free Movie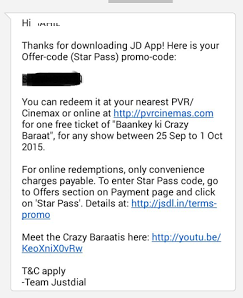 Note:- You have to Pay Small Extra Tax Charge for This Movie
GET 2 FREE PVR CINEMA MOVIE VOUCHERS OF " Baankey Ki Crazy Baarat " FROM JUSTDIAL APP
google_ad_client = "ca-pub-1399806074062216";
google_ad_slot = "6320223482";
google_ad_width = 200;
google_ad_height = 90;