(*LOOT*) GET 150 RS. FREE IN BOOKMYSHOW WALLET TO WATCH MOVIE FOR FREE-AUG'15
Hello Friends,
Bookmyshow have lauched its own wallet system.
And to promote it , bookmyshow is giving 150 rs. To new user and 50 rs. To its old user as wallet cash.
You can use this 150 rs. to watch any movie booked through bookmyshow in your area
So, grab the offer before it become history !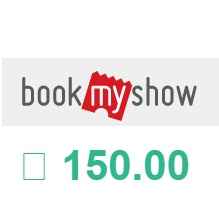 google_ad_client = "ca-pub-1399806074062216";
google_ad_slot = "6320223482";
google_ad_width = 200;
google_ad_height = 90;
HERE IS HOW TO GET 150 RS. FREE IN BOOKMYSHOW WALLET
1. CLICK HERE to go to book my show wallet.
2. If you are old user (Have done transaction minimum one time) then login with your account and enter your mobile number and verify it via OTP.
3. You will get 50 rs. In your BMS wallet.
4. If you are a new user then go to above link and sign up and go to wallet section and verify your mobile number via OTP.
5. You will get 150 rs. In your BMS wallet.
NOTE : Even if you have made account earlier but did not use single time to transact anything you will b called a new user and do the process as new user but instead of sign up do login and after mobile number verification via OTP you will get 150 rs. In BMS wallet.
HERE IS A PROPF : ~
MUST TRY THIS : EARN UNLIMITED FREE RECHARGE FROM MASTGO APP (PROOF ADDED)
Don't forget to share this post and also like fb page Click Here
google_ad_client = "ca-pub-1399806074062216";
google_ad_slot = "6320223482";
google_ad_width = 200;
google_ad_height = 90;
ENJOY & GET 150 RS. FREE IN BOOKMYSHOW WALLET