DOUBLE DHAMAKA:NOW EASILY EARN SNAPDEAL UNLIMITED RECHARGE TRICK WITH RS.50 IN ALL FREECHARGE ACCOUNTS TRICK
P.S-FOR THOSE WHO ARE GETTING "UNABLE TO VALIDATE DEVICE" ERROR, PLEASE 1ST HIDE YOUR DEVICE ROOT WITH HIDEMYROOT APP- ITS MUST DO STEP
LAST TIME I HAVE POSTED UNLIMITED SNAPDEAL REFER AND EARN TRICK
HERE
WITH HIDEMYROOT AND DONKEYGUARD APP. BUT IT SEEMS SO MANY GUYS GETTING PROBLEM WITH THAT TRICK.
I HAVE TESTED SO MANY METHODS TO USE THIS TRICK WITH EASE AND FINALLY MADE THIS SUPER EASY SNAPDEAL TRICK AND ALSO COMBINE IT WITH FREECHARGE SNAPDEAL RS.50 CREDIT OFFER
google_ad_client = "ca-pub-1399806074062216";
google_ad_slot = "6320223482";
google_ad_width = 200;
google_ad_height = 90;
FEATURES OF THIS SNAPDEAL WITH RS.50 FREECHARGE TRICK
GET UNLIMITED SNAPDEAL SD CASH (THOUGH LIMIT IS 550 IN SINGLE ACCOUNT)
EASIEST SNAPDEALTRICK TILL NOW
FREECHARGE RS.50 CREDIT IN ALL ACCOUNT TRICK
WORKS IN ROOTED MOBILE
WORKS IN ROOTED BLUESTACKS WITH BS TWEAKER
NO MORE "INVALID DEVICE ERRORS" IN SNAPDEAL APP
REQUIREMENTS FOR THIS SNAPDEAL WITH RS.50 FREECHARGE TRICK
FOR MOBILE:-
ROOTED DEVICE
EXPOSED INSTALLER
HIDEMYROOT APP
ROOTCLOCK APP
IMEI CHANGER APP
FOR PC:–
ROOTED BLUESTACKS
BS TWEAKER
YOUWAVE FOR ONLY FREECHARGE TRICK
SO HERE IS 1ST TRICK TO GET RS.50 IN ALL FREECHARGE ACCOUNTS(SD OFFER)
AS YOU ALL KNOW THAT SNAPDEAL BOUGHT FREECHARGE LAST MONTH SO THEY ARE PROVIDING RS.50 FREECHARGE CREDIT FOR FRESH SNAPDEAL APP INSTALL IN MOBILE
HERE ARE STEPS TO FOLLOW:-
STEP 1.- IF YOU HAVE INSTALLED SNAPDEAL APP IN YOUR MOBILE THEN DELETE IT OPEN HIDEROOT APP AND HIDE SU BINARIES AND CHANGE IMEI NUMBER WITH IMEI CHANGER APP
STEP 2.– NOW OPEN BROWSER AND AND PASTE BELOW LINK IN IT
https://www.freecharge.in/app/ardeal/action/promooptin/minit?email=coolztricks%40gmail.com&actionId=269
NOTE:- instead of coolztricks put your FREECHARGE ID
STEP 3.-NOW SNAPDEAL OFFER PAGE WITH FREECHARGE WILL OPEN CLICK ON 1ST IMAGE AS SHOWN BELOW
STEP 4.- DOWNLOAD SNAPDEAL WITH THAT LINK AND OPEN APP AND CLICK ON "EARN REWARD"
STEP 5.- NOW IN INVITE CODE WRITE "FREECHARGE" AND PUT YOUR NEW MOBILE NO.
-HURRAH! YOU WILL GET RS.50 CREDIT IN FREECHARGE ACCOUNT SOON
HERE IS PROOF:-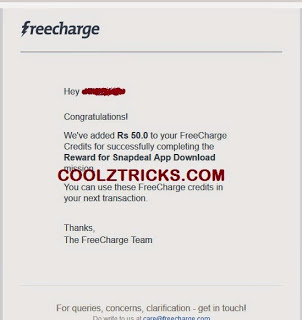 -NOW FOR UNLIMITED FREECHARGE RS.50 CREDIT
IN MOBILE FOLLOW STEPS 1-5
IN PC FACTORY RESET YOUWAVE OR CHANGE ANDROID ID IN BLUSTACKS AND EDIT ABOVE GIVEN LINK WITH YOUR ANOTHER FREECHARGE ACCOUNT
FOLLOW STEPS AGAIN AND AGAIN
THAT'S IT
NOTE:-YOU WILL GET FREECHARGE CREDIT IN 3-7 DAYS
AFTER THIS FOLLOW THIS EASY UNLIMITED SD TRICK
ALSO READ:-*BOOM*) gaana APP HACKED-GET UNLIMITED PAYTM RC CODES-MAY 2015
NOW HERE IS EASIEST SNAPDEAL UNLIMITED SD CASH TRICK
*********FOR 1ST TIME TRICK USERS************
google_ad_client = "ca-pub-1399806074062216";
google_ad_slot = "6320223482";
google_ad_width = 200;
google_ad_height = 90;
INSTALL SNAPDEAL APK IF HAVE ALREADY CLEAR DATA OF IT
DOWNLOAD ABOVE 4 APPS AND INSTALL IT
DOWNLOAD AND INSTALL XPOSED FRAMEWORK OPEN IT AND OPEN MODULES IN IT…
YOU WILL SEE 3 APPS( IMEIchanger, RootClock) IN IT TICK ALL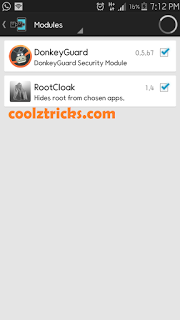 INSTALL IMEI CHANGER AND CHANGE YOUR PHONE IMEI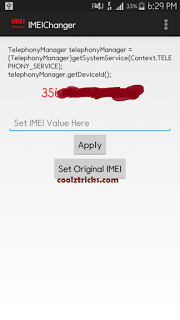 Reboot your phone to make changes (only FOR ONE TIME)
NOW OPEN RootClock app –> open ADD/REMOVE APPS IN IT–> CLICK ON PLUS SIGN(+) ON TOP RIGHT CORNER–> ADD SNAPDEAL FROM IT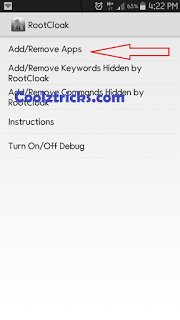 NOW OPEN HIDEMYROOT APP AND CLICK HIDE SU BINARIES
OPEN NEW SNAPDEAL APP AND PUT NEW MOBILE NO. AND YOUR MAIN REFERAL CODE
DONE,,YOU WILL GET MONEY
FOR UNLIMITED SNAPDEAL TRICK USE:-
1. AFTER ABOVE STEPS CLEAR DATA OF SNAPDEAL APP FROM MOBILE SETTINGS
2. OPEN IMEICHANGER APP AND CHANGE IMEI NO.
(DOUBLE CLICK BACK BUTTON IMEI WILL APPLY AUTOMATICLY NO NEED FOR REBOOT)
PLEASE NOTE
–You get earn a total of 100 Rs (50+50) ,50 Rs in freecharge and 50 in snapdeal,
–Offer valid only for a limited period of time,
–Freecharge credits will get added up in 72 hours while the snapdeal cash will reflect up immediately.
–I AM NOT RESPONSIBLE FOR EVERYTHING IF YOU BRICK YOUR DEVICE WHILE ROOT THOUGH ITS VERY LESS CHANCE
–DO NOTE YOUR ORIGINAL IMEI NO. INCASE OF SOMETHING GOES WRONG
STILL CONFUSING? HERE IS STEP BY STEP VIDEOS
PART 1:-
PART 2:-