HERE IS ANOTHER DHAMAKA FREE RECHARGE APP- NOW GET UNLIMITED FREECHARGE FREEFUND CODES FROM Booyo APP REFER & EARN
HERE IS ANOTHER UNLIMITED FREECHARGE FREEFUND GIVING APP BOOYO
NOW YOU CAN EASILY EARN WITH REFER AND EARN PROGRAM OF BOOYO APP
BooYo is a simple game where you place your Yo! on a team and set of players with your own predictions, wait for the game to finish and check out your BooYo standings.
Keep raking points to win goodies.
You know what?. You could win points by not just playing the game but referring and sharing.
google_ad_client = "ca-pub-1399806074062216";
google_ad_slot = "6320223482";
google_ad_width = 200;
google_ad_height = 90;
It's all about play the game you love but on your smartphone.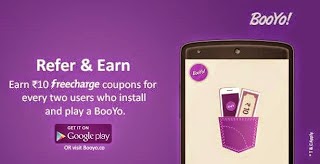 HERE IS HOW TO EARN FREECHARGE CODES FROM BOOYO APP
1ST Download Booyo Android App-CLICK HERE
Open the app & sign into App via Google+ account
Now click on Menu & in Referral code box Apply Code : nA1CD ( You will earn 3000 points)
Now Open PLAY BOOYO (you must have to play it to get recharge)
Now open Menu again click on Refer & Earn
You will Get your unique referral code their Just share it with your friends
When your 2 friends download and install booyo app and use your referral code and play booyo app then you will get Rs 10 worth Freecharge Freefund coupon
check your earning in "Refer & Earn"
You can Redeem your earning when you Reach minimum Rs.30 in app via referral
Freecharge Coupon will be emailed within 24 hours
PLEASE NOTE:-
Referral credits are earned only if the friend applies your referral code after downloading the app.
HERE IS UNLIMITED BOOYO APP FREECHARGE COUPONS TRICK
Get your refer code from above process
clear data and cache from setting in phone of booyo app
pc users factory reset youwave
change imei no. or change values with donkeyguard app
open booyo app
signup with another google+ id
apply your main refer code
you will get Rs.5 in main id
repeat this steps again and again with new google id every time
google_ad_client = "ca-pub-1399806074062216";
google_ad_slot = "6320223482";
google_ad_width = 200;
google_ad_height = 90;
ENJOY THIS BIG LOOT