GIVEAWAY#2 :- FREE RECHARGE UPTO 500 RS. GIVEAWAY BY COOLZTRICKS.COM TO OUR DAILY READERS
contest is over……see below for results
Hello guys, Its sunday today and we are again going to host another free recharge giveaway here on coolztricks in the part of FREE RECHARGE FESTIVAL on coolztricks.
google_ad_client = "ca-pub-1399806074062216";
google_ad_slot = "6320223482";
google_ad_width = 200;
google_ad_height = 90;
As you all know that here is free recharge festival we are giving free recharge to top 10 commentators on random posts.And I will continue to do that.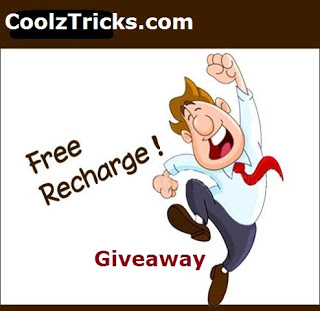 First let me give intro about prizes and some rules
PRIZES FOR THIS GIVEAWAY
Any Random 1 commentator will get " How to make unlimited FB account Trick for Gaana "
First Top 25 commentators will get Rs.10 Recharge each
In Top 25-Random 5 will Get Rs.20 Recharge Each
WHAT TO DO TO BE ELIGIBLE THIS GIVEAWAY?
LIKE COOLZTRICKS ON FACEBOOK – here
IF YOU ENJOY MY 1ST ON NET TRICKS THEN ADD ME IN YOUR G+ CIRCLE-HERE
TELL US WHAT CHANGES YOU WANTS FROM THIS SITE
TELL US WHICH TRICKS YOU WANT
PUT YOUR MOBILE NUMBER, STATE , SIM IN COMMENT BELOW
RESULTS:-
RESULTS WILL BE DECLARE AT 6.00 PM
P.S :- NO ANONYMOUS COMMENTS PLEASE. COMMENT WITH YOUR GOOGLE ID
GETTING ERROR RECHARGING AIRTEL NUMBERS….PLZ GUYS POST NO. OTHER THEN AIRTEL
WE ARE UNIQUE…….WE ARE BEST……OUR TRICKS ARE BEST ON NET
google_ad_client = "ca-pub-1399806074062216";
google_ad_slot = "6320223482";
google_ad_width = 200;
google_ad_height = 90;
(HIT BELOW SHARE THIS POST BUTTONS GUYS)