Link Aadhaar Card With Vodafone Number
How To Link Your Aadhaar Card With Vodafone Number – Full Guide
---
Link Aadhaar Card With Vodafone Number , How to Link Aadhaar Card With Vodafone Mobile Number , Link Your Vodafone Number With Your Aadhaar Card – Hi Guys , Hope You Are Enjoying Our Free Recharge Tricks & Free Recharge Apps , As All Of You Know That Linking Aadhaar Card With Mobile Number is Mandatory in India , So Today I am Going To Tell You How You Link Your Aadhaar Card With Vodafone Mobile Number
Many Telecom Operators Like Airtel Bharti & IDEA & BSNL is Sending The Below Message to Link Aadhaar Card With Mobile Number
'Sarkari Nirdeshanusar , Apke Mobile Number Ko Aadhar Card Se Jodna Aavashyak Hai. Aadhaar Link karne ke Liye , Nazdeeki Airtel Retailer se Sampark Karein' 
For Your Kind Knowledge The Department of Telecommunication (DOT) Has Instructed All The Indian Telecom Operators To Verify All Mobile Numbers By Linking It To Aadhaar.
Linking Aadhaar With SIM Cards Will Lower Down The Fake SIM Card Holders & Add Extra Security To Its Users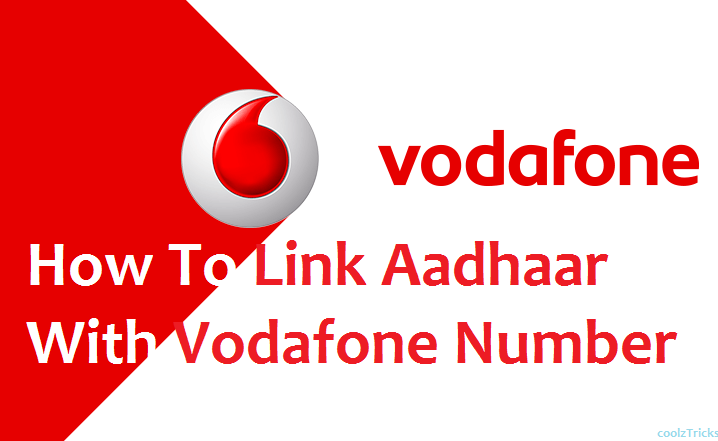 ---
For IDEA , BSNL , Any Other SIM Users :
For Airtel Users :
---
Today I Will Show You How You Can Link Your Aadhaar Card With Vodafone Number So You Can Enjoy The Vodafone Services Without Any intermittent.
Documents To Link Aadhaar Card With Vodafone Number
Your Aadhaar Card (Digital Or Hard Copy)
Your Active Vodafone SIM card
Bio-Metric Verification Machine With Vendor
OTP (SMS You Received)
Finger Print For Verification
How To Link Aadhaar Card With Vodafone Mobile Number STEPS
1, First Of All Just Visit The Nearest Store Of Vodafone Or Vodafone Recharge Vendor
2. Now Tell Them To Link Your Aadhaar Card With Mobile Number
3. Now Store Keeper Will Enter Your Vodafone Mobile Number is Bio-Metric Aadhaar Verification Machine
4. Soon , You Will Receive The OTP On Your Vodafone Mobile Number
5. Give The OTP To Store Keeper
6. Now Retailer Or Aadhaar Agent Will Do His Fingerprint Verification
7. Now its Your Turn To Verify Your SIM With Your Aadhaar Card Number & Fingerprint
8. Now Just Enter Your Father/Husband Name & Number Of Connections You are Having
9. confirm The Details Entered By Vendor Or Aadhaar Agent
10. You Will Receive Another Final SMS On Your Vodafone Number
11. Just Reply With "YES" & Your Verification Will Complete
12. Success !! You Have Just Linked Your Aadhaar Card With Mobile Number
How To Link Aadhaar Card With Vodafone Number Using OTP Online
This Process Will Start From 1st December 2017 Or 1st Week Of December 2017
1, The Network Operator Will Provide You with The UID Recipient Number (That is 14546) On Which You Have to call
within Few Seconds You Will Hear Computer Generated Voice
Select The Language Of Your Choice
2. Now You Need To Enter Your 12 Digit Unique Identity Number/Aadhaar Number From Your Respected Mobile Numbers
3. Your Network Operator Will Then Do Demographic verification of the number
4. After This Demographic verification Process, Operator Will Send OTP Request
5. Your Operator Will Then Send OTP Request To Govt. Aadhaar Portal UIDAI
6. UIDAI – The Govt. Aadhaar Portal Will Then Send OTP To Your Mobile Number
7. The user will Enter this OTP Manually
8. Bingo !! You Have Just Linked Your Mobile Number With Aadhaar Card Using The OTP.
E-KYC Process Have Just Completed.
Fee To Pay While Linking Your Aadhaar With Vodafone SIM
There is no fee for linking Aadhaar with your number. So Don't Pay Anything To Any Vendor/Agent If They Ask Anything
If Still Some One Ask Then You Can Complain On Vodafone CC
Some Must Know Questions & Answers 
If I have multiple mobile numbers, do I have to link each of them separately?
Yes
 I have already given Aadhaar no. while buying new connection. do I have to verify again?
a) If you have done biometric (given finger prints) along with Aadhaar at the time of taking connection, you do not have to do this activity again.
b) If Aadhaar was given only as an identity or address proof and no biometric was done, please visit your nearest retailer to complete the process.