Amazon Children's Day Riddle Quiz Answer
Amazon Children's Day Riddle Quiz – Answer & Win Lego star wars command shutter
---
Amazon Children's Day Riddle Quiz , Amazon Riddle Quiz Today Answers , Amazon Children's Day Riddle Quiz All Answers , Amazon 14th November Amazon Children's Day Riddle Quiz Win , Amazon Riddle Quiz All Correct Answers – Hi Guys , Its Sunday and Amazon India Comes Back With Another App Only Quiz, This Time Prize is Big & Quiz is Simple, You Will Get The Free rs 5000 amazon pay balance
We Are Already Regularly Posting The All Amazon Quiz Time Quiz answers & All Amazon App Treasure Hunt items, Before Few Days We Have Posted The Amazon App Quiz , Now Here is Exclusive Chance To Win The Free Lego star wars command shutter from Amazon.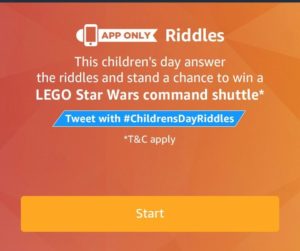 Amazon India is Regularly Arranging The Similar Types Of Quiz & Treasure Hunts , We Are Regularly Posting All The Answers Of Amazon App Quiz Time . We Have Already Seen The Quiz Of
There are a total of 16 (sixteen) Prize(s) that will be given under this Contest. The Prize will be delivered to the winner on or before 28th December, 2017
---
Amazon Children's Day Riddle Quiz – Answer & Win Lego star wars command shutter
This is Amazon App Only Offer , So We Suggest You To Use & Install The Amazon Android Or iOS App
1, Just Download The Amazon App In Your Mobile From Playstore Or App Store
2. Now Just Open The App & Create/Signin Into Amazon Account
3. Now Just Go To Home Page Of The App & You will be Able To See The Banner Of "Amazon Riddle Quiz"

4. Now Just Open the App Banner & You Are About to Start The Quiz With "Start" Button 
coolzTricks Tip: For Our Reader's  Easiness , We Have Solved All The Questions Of This Amazon Red Tape Quiz & You Will Find All Correct Answer of This Amazon Quiz Below
Answers Of Amazon Children's Day Riddle Quiz
1.  I can fly without a pilot, you'll often find me in a bored classroom. What am I ?
Answer:-  Paper Plane
2. Balance me on one finger or many to take me for a spin. I can help with both, concentration and distraction. What am in?
Answer:- Fidget Spinner
3. Yellow, orange and full of angles, I was a classroom favorite for the 90's kids, what am I?
Answer:- Geometry Box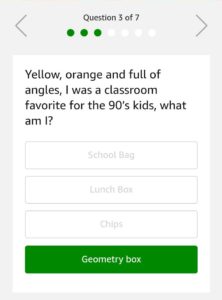 4. With me, you can climb up a rung or slide down with a hiss. What am I?
Answer:- Snake and Ladders
5. I have a Red Queen but no King. I have wood but no trees. What am I?
Answer:- Carrom Board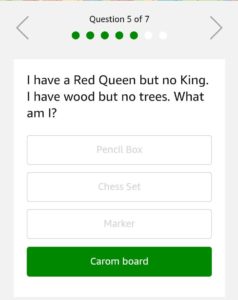 6. Google paid me a tribute on its 50th anniversary and was in the 'Everything Is Awesome' cast? What am I?
Answer:- Lego Box
7. I was NOT one of your favorite characters from Tinkle comics. Who am I?
Answer:- Jabba The Hutt
---
More Details Of This Quiz :
1. This Contest will commence on 14thNovemberfrom 12:00:01 a.m. (IST) to 11:59:00 p.m. (IST) ("Contest Period") 2. In order to be eligible for the Contest, during the Contest Period you must sign-in to or sign-up from an account on the Amazon.in App ("Amazon.in App").
3. Once you have signed-in to the Amazon.in App, you can participate by navigating to the page where 7 (seven) questions will be posted during the entire Contest Period.
4. Thereafter, if you answer all the quiz questions correctly, you will be entitled for a lucky draw which will be carried out amongst participants who have answered that particular question correctly.
5. The draw of lots will be carried out during the Contest Period for the questions and a total of 16 (Sixteen) participants will be selected as winners by a random draw of lots. A total of 16 (Sixteen) participants will be selected as winners of the Contest.
6. The declared winner(s) will be eligible for winning a Lego Kylo Ren's Command Shuttle, Multi Color(hereinafter referred to as "Prize(s)").