Airtel Reward Tune Service
Airtel Reward Tune Service-Get Free Rs.15 Mobile Recharge Every Month
Airtel Reward Tune Free Balance, Airtel Reward Tune Free Talktime , Airtel Reward Tune Unlimited Free Talktime-  Hi Guys, You Guyz Are Enjoying Our Free Recharge Tricks And Airtel Free Internet Tricks. And Airtel Free 5GB Free Internet
Finally I am Back On work To Provide You Best Loots and Offers , Thanks All of You For Your Kind Wishes For My Marriage.
Airtel Reward Tune Service is Same As Airtel Caller Tune Service But Now Airtel Is Providing You Rewards For Subscribing Its Reward Tune Services.
You Will Get ₹15 free recharge per month in your Airtel account. This offer is valid only for Airtel prepaid customer
Airtel Reward Tune Service– Here is How To Activate & Get ₹15 Per Month
1) First of all Just Open Your Mobile Dialler And dial This Number From your Airtel Number
50800
2) It Will Ask To Select Language Just Select your language,
3) Then press 1 To subscribe Airtel Reward Tune Service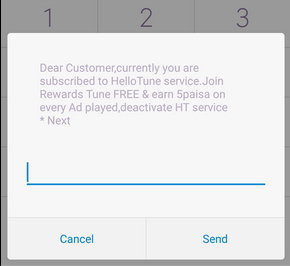 4) Then Just Confirm your Activation request by pressing 5
P.S – This is non-chargeable Airtel Reward Tune Service
5) Just Wait for 30 Min to get fully activated In Your Airtel Reward Tune Service
6) You can check This Service by calling to your Airtel number from your another number.
** Now Whenever Some One Calls, They Will Hear The Advertisement Of A Big Brand Instead Of The Regular Ring And the Money You Earn In A Day, Will Be added The Next Day !!
8) That's it!! Enjoy Free Recharge by Airtel
Airtel Reward Tune Service- More Numbers To Activate
1) You Can Dial *580# USSD From your Airtel Number  (toll free)
2) Dial 50080 IVR (toll free)
3) You can Message RT to 50080 SMS for Activate Airtel Reward Tune Service  (toll free)
How To Get receive Rewards In Your Airtel Mobile

:
As Your Airtel Reward Tune Service is Activated By Above steps Then Callers Will start Hearing Advertisement For every More Than 5 seconds adv call You Get 5 paisa in your main airtel balance on Next day
Example- if Today 10 people calls you and listen your tune more than 5 seconds You Get 50 Paisa Rewards and It will Be Added In Your Account Next Day
Also You informed by SMS that your reward tune rewards credited in your main balance.
How To Un-subscribe Airtel Reward Tune Services
1)  You can deactivate this service by Just sending a Message, Call, Or by USSD Code.
2) Just SMS STOP to 155223 or
Call :- by calling 155223 or
USSD :- by dialing *580# 
Airtel Reward Tune Service – Terms & Conditions:-
1) Airtel will have the right to withdraw this service at any point of time without giving any prior intimation to the  customer.
2) The Reward Tune service is available for Prepaid Airtel customers only.
3) Balance/Talk time/Minute/Data credit will not be done incase Customer has unsubscribed or his/her service or has been black-listed by Airtel.
4) The decision of Black-listing a subscriber shall be the sole prerogative of Airtel and the same shall be final and binding on all concerned.
5) Reward Tune is applicable only for a Non Hello Tune subscriber.
6) Any misuse of the rewards program to derive unfair benefits will result in suspension of the rewards received by the user and black-listing from the overall rewards program.
7) Airtel shall hold exclusive rights to decide what would constitute misuse and the decision of Airtel in this regard shall be final and binding on all concerned..