Lemall Le2 Sale
Lemall-Register & get chance to buy the Le2 Mobile with free headphones & one year LeEco Membership
Hi guys, We already Have looted LeEco Le2 Rs.1 Smart Phone from Lemall.com, One of my Friend Also Got That In Rs.1 lemall Le2 Flash sale which was on Last 20th June.
We already have seen Future Proof smartPhone Le2 With its Heavy Features In Last post If You have Missed Its Epicness Then Here is Its All Feature Summery.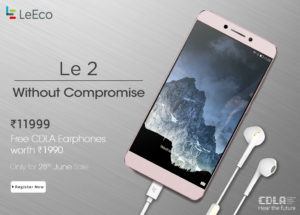 Leeco Le 2 Is Equipped with a 16MP rear camera and 8MP front camera, Le 2 is greatly improved from its predecessor.With technologies like PDAF, Closed Loop and other ground-breaking technologies, people can catch clear pictures in moving and unfavourable conditions.
Powered by Octa-Core Qualcomm ® Snapdragon TM 652, Le 2 has a combination of 3GB RAM and 32GB ROM and a 5.5-inch In-Cell display screen which is usually featured with overpriced phones.
In addition to 3G, LTE and GSM, Le 2 supports all 4G bands in India and will also have VoLTE very soon over an OTA.
LeEco Le2 Crossed Epic 150000 Registration In 2 Days
as You All Know That LeEco Has started Registration For 28th June Flash sale and its Got as many as 1,50,000 Registration In Just 2 days Period
While 200 Peoples have grabbed their favorite Le 2, there's still a chance for users to get their hands on their favorite Superphone.
Registrations for the first flash sale of both Le 2 and Le Max2 are underway on both Flipkart and LeMall.
The first flash sale for Le 2 starts at 12 noon on June 28th, registrations for which is open now until 11 AM, on June 28th. For Le Max2, registration is now open till 28 June 1PM followed by the flash sale at 2 PM on 28 June.
So block your dates well in time and become the proud owners of Superphones that have created ripples in the Indian smartphones industry.
Here is How to Register & get chance to buy the Le2 Mobile with 100% CashBack (100 Peoples)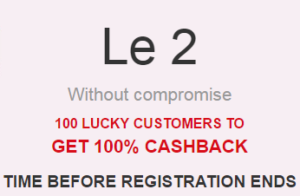 1st Of All Just Visit This Le 2 Lemall Registration Page
2. Now You can See Timer There and " Register Now " Option There on Page
3. Just Click On " Register Now " Button
4. On Next Page You Will see " Login With"  Option-You Must Have To Login With Either Fb, Google+ Or Twitter Account
5. You will Be Redirected to Another Page Just fill Out Your Mobile Number if it asks..
6. Finally Just Verify Your Email Address/Or Mobile Number to get Successful Registrations.
Register & get chance to buy the Le2 Mobile with free headphones
.