Cheap Virtual Reality Headsets India
AuraVR Virtual Reality Plastic VR Headset, Supports upto 6 Inches Phones, Inspired by Google Cardboard (Black/White)-Hi Guys Missed That 1 Rs. Deal Of One Plus Loop VR headset-{*Autobuy Trick*}Amazon: OnePlus VR Loop Headset At Just Rs.1
Now Amazon Has Comes Up With Another Cheap VR-Virtual Reality Headset Names AuraVR With Almost 50% Off Offer
AuraVR virtual reality plastic VR headset is a premium quality Made In India headset which has already marked its presence in the field of virtual reality viewing devices for smart phones . Since the product is being sold directly to the customers without any middle man, it allows us to sell this Google cardboard inspired plastic vr headset at such a low price.
Original Prize– Rs.999
Deal Prize – Rs.499
Discount– 50% (Rs.500)
Amazon-How to Buy AuraVR Virtual Reality Headset in Just Rs.499
First Of All just Visit This AuraVR Deal Page- Click Here
2) Now Add product In Cart or If deal is 100% Claimed Then Wait For Your Turn
3) Now once You add product in cart do Login/Sign Up in Amazon with Your account
** New Amazon Users-Click Here to Join and Get Rs.100 Amazon Voucher
4) Fill Out Shipping details and Contact Number
5) Pay with Available Payment modes
6) Enjoy The virtual Reality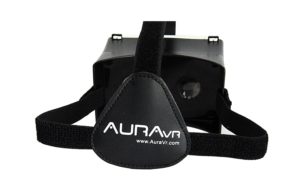 AuraVR Virtual Reality Headset-Product Features
AuraVR is a full plastic body virtual reality viewer, vr headset inspired from Google Cardboard. It can be used with smart phones with up to 5.5 inch screen size with minimum operating system as Android 4.1 or Apple iOS 6.

It is made from flexible plastic thus making it more durable than the cardboard made viewers. This virtual reality headset comes with an adjustable head strap which distributes the weight of headset and phone evenly over the head thus making it possible to use the headset for longer duration without any strain.

This virtual reality headset is used for experiencing virtual reality, enjoying 360 degree movies and playing VR games on smart phones. It works on split screen methodology. There are plenty of VR applications on both android and iOS platforms that can be downloaded from Google Play Store or Apple iTunes. Some of the applications for include mo3d, VR Cinema, Zombie shooter, google cardboard, Youtube 360 degree video channel etc.

Phone compatibility or OS compatibility -Mobile phones running with operating system as android 4.1 and above or iOS 5 and above. For utilizing complete functionality of VR headset, phone must have sensors like Gyro sensor, compass, magnetometer and proximity sensor

India's best selling VR viewer with excellent customer support.
.