WHATSAPP TRICKS
HOW TO USE WHATSAPP (AND OTHER MESSAGING APPS) WITHOUT INTERNET
Hey Guys,
Today I'm back again with another whasapp trick which I'm sure you'd love. We have previously shared many WHATSAPP TRICKS which received a very nice response from you guys. That's why we have decided to continue posting more WHATSAPP TRICKS.
Yes, you read the title right. How to use whatsapp without internet. Many of you must be wondering even if it is possible or if I'm trolling you guys. It is indeed very much possible. Just keep on reading the post and you'll come to know how this can be done.
WhatsApp is without any doubt the most popular messaging app in the world right now. With over 1 billion active users, it is in the top lists of both Google Play Store and Apple store in more than 150 countries.
We can't imagine a day without whatsapp but sometimes we are unfortunately not able to get online due to poor connectivity issues or low balance. Either way we're not able to get in touch with our loved ones with whatsapp. Otherwise also, one soends thousands of money on their wifi connection or carrier internet packs which undoubtedly haves a huge impacts, especially on students. To counter all these problems Manuel Zanella (CEO of Zeromobile) has designed a new sim card known as ChatSim.
Also Try – How to increase RAM in android using SD card 
Many of us, use not just one messaging app. There are many out there available too like LINE, WeChat, Messenger, Telegram and many more. With the ongoing increase in the number of messaging apps, ChatSim has also increased it's support from just Whatsapp to all the other apps in the market as well, which is quite a fair deal for us.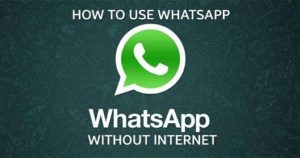 WHAT IS CHATSIM?
ChatSim is the world's first SIM card that lets you connect your ChatApps wherever you are. For just ₹900 a year you can send unlimited text messages and emoji with WhatsApp, Facebook Messenger, WeChat, LINE, Telegram and many other Instant Messaging apps. Thanks to ChatSim you can keep in touch with family, friends and colleagues. Plus another 3 billion people around the world. According to the company, ChatSim supports more than 250 operators in 150 countries. Now you don't need to worry anymore about those insane international roaming charges with ChatSim.
Also Read :- How to flash custom recovery using Rashr
Moreover, ChatSim comes in all the sim sizes (Mini, Micro and Nano) so you need not worry about adjusting it in your phone. It can be put into any phone available in the market right now.
After one year, you can renew your plan for ₹900 from their website itself. The sim costs ₹900 and 1 year plan costs ₹900. So, for the first year you'd had to pay ₹1800, still not expensive compared to the internet charges you spend per year.
To send photos, videos, voice messages and do voice calls you can buy additional credits which range from
₹900 for 2000 credits
₹2250 for 5000 credits
₹4500 for 10,000 credits

ChatSim
WHAT WILL YOU GET FOR 10,000 CREDITS?
ChatSim offers sharing of videos, pictures and voice messages by purchasing optional media packs. One can buy these packs online and start voice calling and multimedia sharing. You will get different value for your credits in different countries. In India, for instance, 10,000 (worth ₹4500) will get you:
1000 photos OR
200 videos OR
400 call minutes
IS IT WORTH IT?
ChatSim is priced relatively at a cheap rate, ₹900 for one year. We all spent more than ₹900 a year just for using WhatsApp. In this case, it's a pretty good deal. ₹900 for unlimited texting and emojis for one year is way more than one ca even imagine. However, sending images, videos and voice calling over WhatsApp, Messenger and other apps is not so budget friendly. According to the above plan, in India
Every photo will cost around ₹4.5
Every video about ₹22.5
And every minute of voice call ₹11.25
Considering that, now every operator provides and internet pack below ₹20 which gets you about 50mb for one day. One can easily send 1000 photos (50 kb).
To buy or not to buy additional media packs is upto you, but I will definitely recommend getting hands on one of these ChatSim for texting via WhatsApp, Messenger and other apps.
Must Check :- How to remove pattern lock from android
HOW TO BUY CHATSIM?
After reading all the details, you would have finally considered it a budget friendly deal and want to buy one.
You can buy ChatSim from Amazon.com if you want to.
Click here to go to the product.

Or you can but it directly from the website by clicking here.
Note:- Shipping Charges do Apply.
For additional details, visit the oficial website. Click here.
HOW TO USE WHATSAPP WITHOUT INTERNET.
For more such content keep on visiting coolztricks.com
Don't forget to share on WhatsApp and FB
.