Favcy

Re

wards : Free KKR Jersey
Favcy Rewards : Refer Friends And Get Free KKR Jersy, CCD / Pizza Vouchers :
Hi readers, here is one another refer and earn program to get FREE KKR Jersey / Gift vouchers
About Favcy Rewards : Favcy is a behavioural reward ecosystem, where you can earn Brand Points for engaging with your favourite brands. We make this a lot sweeter by getting you exclusive offers on your points, and giving you real money value for your engagement. In here, engagement truly pays!
Now refer your 10 friends to Favcy Rewards and get free KKR jersey for free. You can also Redeem your referral earnings / points as CCD voucher and many more.
Hurry up! only limited stock products are available So, start referring your friends and grab your free jersey. To get your Free jersey just follow the below mention steps.
To get your Free jersey just follow the below mention steps.
STEPS TO GET YOUR FREE KKR JERSEY :
Then click On Login with Facebook option
Now give permission to Facebook account to get the collect account details
Then Enter your mobile number
Now verify your mobile number using one time password
After verification, you will get free 100 points
Now start referring your friends and get 30 points per refer
STEPS TO REFER FREINDS AND EARN :
Login your account
Then, click on share on whatsapp option
Now start referring your friends and family
per refer you will get 30 points
you can redeem it as KKR jersey when it reach 300 points
STEPS TO REDEEM – KKR JERSEY :
Login your account and click on Challenger offer
Now fill your details like name, address, pin code etc
then click on activate offer ; Currently my offer is locked thats y i shows offer locked on above attached screenshot
Now your Free KKR jersey successfully redeemed and your reward will be shipped in 2-3 Days
Kolkata Knight Riders Secret Shop Rewards :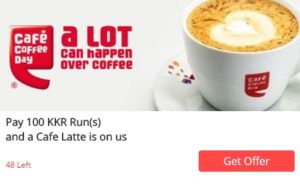 STEPS TO EARN MORE POINTS EASILY :
Firstly login your account on favcy
then go through this link – Click Here
You can earn points by liking, sharing, by watching videos ,etc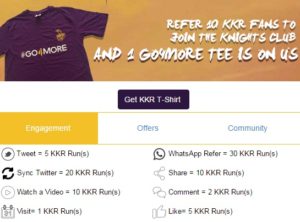 .