FREE RECHARGE TRICKS
google_ad_client = "ca-pub-1399806074062216";
google_ad_slot = "6320223482";
google_ad_width = 200;
google_ad_height = 90;
google_ad_client = "ca-pub-1399806074062216";
google_ad_slot = "6320223482";
google_ad_width = 200;
google_ad_height = 90;
BOUNTYSTAR APP TRICK-GET 10 RS PER REFER AND EARN UNLIMITED FREE MOBILE RECHARGE (PROOF ADDED)
Hello friends coolztricks is back with another first on net app thats bountystar app so its basically a recharge and cashback app,you will get 10 rs per refer which can be used for doing mobile recharge and this post is from the new guy nash
official Call:-Root User/xprivacy User/Bluestack/ Users will Not Get anything As Per BoutyStar App Admin
Bountystar App
Bountystar is a free recharge provider for the simple tasks that you complete within the application. You can also look for attractive cash back offers and coupon deals. Forget all complex registration steps. It is extremely easy-to-use with simple interface. Enjoy the app with frequently updated offers and deals.
The most common expense of anybody all over the world is on their smartphone plans and bills. Complete available offers or invite your friends/family. You can now recharge any prepaid mobile number for free.
Follow the simple steps below and you will not have to pay for recharging your phone number again :
EARN FREE RECHARGE FROM BOUNTYSTAR ANDROID APP EXCLUSIVE ON COOLZTRICKS
BOUNTYSTAR APP TRICK-GET 10 RS PER REFER AND EARN-steps
1) Download BOUNTY STAR Android App
2) Now Just Open The App and Do The Signup Process By Puting Your Mobile Number
3)Get your number verified with the OTP.
4) Now You Will See List of Offers on The App, Just Download Any one App From The List
IMPORTANT NOTE:DOWNLOAD ATLEAST ONE APP WITHIN 24HRS OF SIGNUP SO THAT YOU WILL GET THE REFERAL AMOUNT
5) Download App From The List Just 3-15 Mb Apps are available And Easy To Use Also.
6)share your refferal link and get rs 10 when they complete first offer
TERMS AND CONDITION:
1.YOU HAVE TO DOWNLOAD ONE APP INSIDE TO GET THE REFERAL AMOUNT
2.DOWNLOADED APPS AMOUNT WILL BE LOCKED UNTILL THEY VERIFY THE INSTALL
3.RS 1 WILL BE CHARGED WHILE RECHARGE
4.MINIMUM OF 10 RS PREPAID RECHARGE
5.SO YOU SHOULD HAVE RS .11 OR MORE MONEY TO DO THE RECHARGE
PROOF ADDED: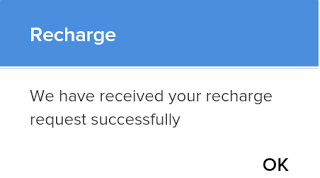 google_ad_client = "ca-pub-1399806074062216";
google_ad_slot = "6320223482";
google_ad_width = 200;
google_ad_height = 90;
.