[*COOL*] DATABACK APP TRICK – GET 2G / 3G / 4G DATA FOR FREE
Hello Friends,
Here is another cool app.
Its same as gigato app.
It is new and it started refer program also.
Now i will guide to use the app.
    google_ad_client = "ca-pub-1399806074062216";
    google_ad_slot = "6320223482";
    google_ad_width = 200;
    google_ad_height = 90;
MUST TRY NOW : 2VIN APP TRICK – GET FREE SMARTPHONES
HERE IS HOW TO EARN MOBILE DATA FOR FREE FROM DATABACK APP TRICK :~
1. 1st of all download the databack app from play store [ CLICK HERE ]
2. Open the app and verify mobile number … Write referal code " COO87782 " during sign up to get 10 MB data for free as welcome bonus.
3. Now you can see various app offers in which you can use your mobile data and earn mobile data same as gigato … complete them …
4. You can share via share option to your friends and family.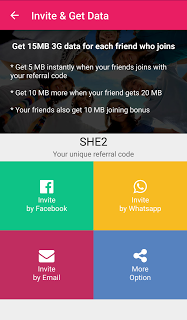 5. You will get upto 15 MB 3G Data
5 MB : when your friend joins.
10 MB : when your friend reaches 20 MB limit
6. To redeem go to menu and click " Your data balance " then click on redeem.
NOTE : Minimum Redeemable amount is 150 MB.
MUST TRY NOW : [*DHAMAKA*] SMARTAPP TRICK-50 Rs. OFF ON RECHARGE+50 Rs./REFER-NOV'15
~~~~Don't forget to share this post and also like fb page Click Here
    google_ad_client = "ca-pub-1399806074062216";
    google_ad_slot = "6320223482";
    google_ad_width = 200;
    google_ad_height = 90;
DATABACK APP TRICK – GET 2G / 3G / 4G DATA FOR FREE – DEC'15