Big loot :- SWAGBUCKS WEB TRICK – EARN ALL GVs, ITS PAYPAL MONEY ADDER [+PROOF] (FULL GUIDE FOR EARNING)
Hello Friends,
Some of you already knows that SWAGBUCKS is very genuine web.
It pays highest for surveys etc.
And You can win All Companies Free Gift vouchers and also You can Get Your Point Converted in Paypal account.
Also, the SWAGBUCKS web has
refer and earn system
and you can get
10%
of your friend.
Generally we
NEVER PUT THE TRICK WHICH HAS REFER AND EARN IN %( percentage) BUT IN THIS WEB YOU CAN EARN UNLIMITED BY JUST DOING SIMPLE STEPS AND I WILL PROOVE IT…I TESTED THE WEB MYSELF AND COMPLETED REVIEWS…REDEEMED AND GOT FLIPKART GV WHICH I REDEEMED !
    google_ad_client = "ca-pub-1399806074062216";
    google_ad_slot = "6320223482";
    google_ad_width = 200;
    google_ad_height = 90;
HERE IS HOW TO EARN GVs OR PAYPAL FROM SWAGBUCKS WEB TRICK (FULL GUIDE FOR EARNING):~
1. 1st of all open browser in desktop or turn on desktop view in mobile and then
[CLICK HERE]
2. Now just Register new account In SwagBucks
3. Now you Have many ways that can earn by multiple actions.
Search and earn :
search from the box situated upper left side and you will get 1-200 SWAGBUCKS randomly. (I have included proof that i earned 20 SB at one time at last.)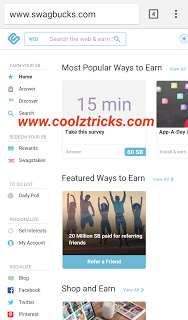 Earn With Surveys
■ Now on left panel click " Answer ".
Gold surveys in SwagBucks pays very high,
partner surveys in SwagBucks may take 24 time to detect after completion,
peanut labs survey in SwagBucks will redirect you to other web, daily poll will give you SB everyday,
In Tasks you have to complete some tasks and earn.
● Also there is daily survey in SwagBucks that pays you 60 SB !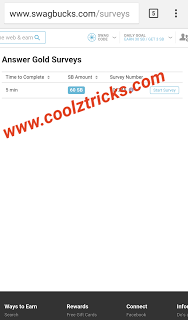 Get points from My survey Info
Also you can provide info about you and earn in " My survey Info "
● You can complete daily chalange of " Complete X SB in one day to earn X SB more "
● Now click " Discover " in left panel and complete the TASKS to earn more SBs.
● Minimum payout starts at 100 SB.
HERE IS THE PROCESS HOW TO REDEEM SB IN SWAGBUCKS :~
● 1st of All let me know Your all earned SB will be added to Your Account In
24 Hour
After Completion of any offer.
● Click on REDEEM SB in left panel.
● Choose the desired one and they will ask your address and also verify your mobile number.
● You will get your GV in 7 working days.
HERE IS THE FULL PROOF OF SWAGBUCKS : ~
■ I earned more than 300 + SB in one day and redeemed 190 SB for 100 Rs. Flipkart GV
■ I earned SB by doing follwoing things.
■ And here is the proof of getting Flipkart GV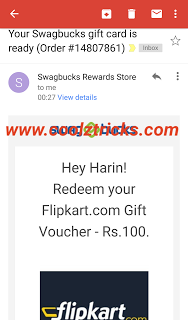 ■ After placing request of redeem you will get email when your order is ready and you have to click on the link sent by gmail.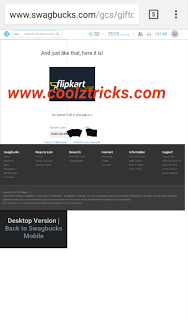 ■ You can check the status of redeem by click on " My Gift Cards " section for the status of your GV
●●● IF YOU REFER YOUR FRIENDS YOU WILL GET 10% OF SB EARNED BY THEM BUT BEWARE TO DO FAKE REFERALS BECAUSE THEY ARE VERY STRICT AS THEY WILL BAN EVEN TWO ACCOUNTS RUNNING ON SAME WI-FI ●●●
    google_ad_client = "ca-pub-1399806074062216";
    google_ad_slot = "6320223482";
    google_ad_width = 200;
    google_ad_height = 90;
MUST TRY THIS : AppDAngo- unlimited PAypal CAsh Trick


~~~~Don't forget to share this post and also like fb page Click Here
SWAGBUCKS WEB TRICK – EARN ALL GVs, ITS PAYPAL MONEY ADDER [+PROOF] – NOV'15