DIWALI LOOT- PRODKT APP TRICK – GET UNLIMITED FREECHARGE FREEFUND CODES & FREEBIES LIKE PENDRIVES REFER & EARN !
Hello Friends,
After
heybiz
and
2vin
here is another best app for
freebies
.
we Are finding Some Loot for This Diwali and we have found this app named Prodkt App Which is Giving Unlimited Freecharge FreeFund Codes and Gifts Like PenDrives And Sandwich makers For Free
Best Thing About This App is They Will Tell you everyThing About Your Electronics Gagets From Purchase date to Warranty and every Thing.
So This app has Totally newest concept for you.
    google_ad_client = "ca-pub-1399806074062216";
    google_ad_slot = "6320223482";
    google_ad_width = 200;
    google_ad_height = 90;
HERE IS HOW TO GET FREEFUND CODES AND FREEBIES FROM PRODKT APP TRICK : ~
1. 1st of all download the
prodkt
app from
play store [ CLICK HERE ]
2. Sign up with google+ and grant the permissions that app requires.
3. Now verify mobile number and you will get 100 points.
**1000 points = 50 Rs. Freefund code
4. Now you will see an icon upper right corner (left to the 3 dot menu button)
5. Click on it and apply referal code : UEGTG


** You will Get 100 Points If You Use above Code
6. Great ! You get 100 points more ! So Now You have 200 Points
7. Now a new screen will appear asking about your device, fill it by click on " Add it " [ Most important step to access your points ]
8. After submit, click on " menu " button of android phone or 3 dot menu button in newer phones situated upper right side and click " My Earnings " and you will have 200 points there.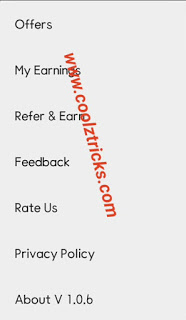 9. Now again go to that menu and click " REFER AND EARN "
10. Now share to 8 friends and family and you will get 1000 points !

1 share = 100 points to you and 200 points to your friend by doing some steps !
HERE ARE PRODKT APP REWARDS :
● Physical Goods will be shipped within 2 weeks (excluding any holidays) from the time of redemption.
● Digital Goods such as recharge coupons will be emailed to you with in 72 hours.
● Only one install per device is allowed.
    google_ad_client = "ca-pub-1399806074062216";
    google_ad_slot = "6320223482";
    google_ad_width = 200;
    google_ad_height = 90;
PRODKT APP TRICK – GET FREEFUND CODES & FREEBIES ! – NOV'15