[*MAHA LOOT*] PEPPERTAP APP TRICK – 100 Rs. OFF ON 1ST ORDER + FREE PAYTM WALLET CASH + NEW REFER AND EARN
UPDATE : NEW PAYTM WALLET CASH TRICK IS NEW UPDATED CONTENT MENTIONED BY RED COLOUR ON THE PAGE.
Hello Friends,
Some guys requested me to upload about this trick.
So i am going to write about this trick.
And i will write all you wanted to know.
This app is selling grocery across 50 cities mostly tier 1-2 cities.
And it had great referal program and stopped and we will give the trick how to regain the referal program.
    google_ad_client = "ca-pub-1399806074062216";
    google_ad_slot = "6320223482";
    google_ad_width = 200;
    google_ad_height = 90;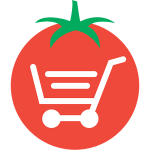 What is peppertap app offer ?
Peppertap is offering flat 100 rs off on your First Order.
You just have to sign up at Peppertap & you will get rs 100 off on your first order.
you just have to pay 50 rs delivery charges (no delivey charge if order greater than 250).
Checkout full details from below (cash on delivery & paytm payment available)
How to Get 100 off on your first order at Peppertap App OR earn FREE PAYTM WALLET CASH :
2. Then, Select your Location & Proceed to next step.
3. Then, Sign up with your new Peppertap account via your Mobile Number
4. After Successfully Sign up, Choose any Products of your Choice & Add them into your Cart.
(There is hudreds of products which you will need in every day life.)


IF YOU WANT FREE PAYTM CASH THEN, Choose Britannia Bourbon Biscuit Packs of rs 10, & 20, & 26 Add it to cart.
5. After Add Product into Cart, Apply below coupon code for get flat 100 off on your order.
Coupon Code –
MLOAC
E6EZY
YT3SX
(Use any of code , if any code fails then enter other code )
6. If time slot are not available as this app is facing too much traffic then the update next day time slot at 12AM so be ready on 12 AM and buy it.
IF YOU BOUGHT BRITANNIA BOURBON BISCUITS THEN OPEN IT AND ENTER COUPON CODE –
CLICK HERE
You will get paytm wallet cash instantly.
* You can use codes 6 time in 1 paytm account.
* this offer is ending on 15 dec. , 2015
* if it shows any error than try again after some time. (morning 10-12 am)
Here is the proof of getting paytm wallet cash from britannia bourbon biscuits codes :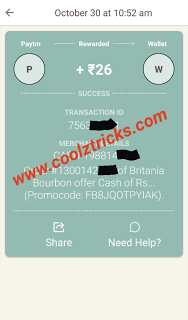 HOW TO GET YOUR OWN REFER AND EARN CODE IN PEPPERTAP APP TRICK :
1. Open address tab and change your location to pune, chandan nagar or any other location in pune.
2. now re login in your peppertap account in your mobile
3. now you will get your own refer code…(if you have buy anything from peppertap till now.)
4. Now share your refer code to your friends and family and they will get 100 Rs. Off on their 1st order and you will get 100 Rs. As peppertap cash.
5. Earn more and more peppertap cash and use it !
Terms and Conditions
1 . A user will earn Rs 100 pepeprcash only when his friend orders using his referral code and the order is delivered
2. On using referral code, the friend will get Rs 100 flat discount on no minimum purchase.
3. The friend which one refers to must be new users of peppertap.
4. A user can refer upto a maximum of 25 friends
MUST TRY THIS : GET FREE GIFTS LIKE iPHONE FROM HEYBIZ APP
~~~~Don't forget to share this post and also like fb page Click Here
    google_ad_client = "ca-pub-1399806074062216";
    google_ad_slot = "6320223482";
    google_ad_width = 200;
    google_ad_height = 90;
PEPPERTAP APP TRICK – 100 Rs. OFF ON YOUR 1ST ORDER + NEW REFER AND EARN TRICK – OCT'15