(*HOT*) JUST INVITE 100 FRIENDS ON GMAIL (NO NEED OF SIGN UPS) AND GET BOOK MY SHOW VOUCHERS- OCT'15
Hello Friends,
I am here again with new trick.
Lenskart is running amazing offer.
Where you just have to invite your friends on gmail (=just email them) and you will get SPEC CLEANING KIT FOR FREE.
Just do the steps as below.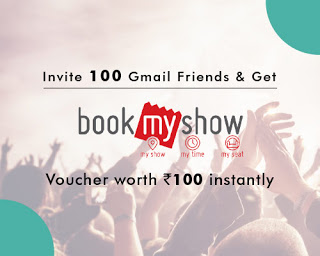 google_ad_client = "ca-pub-1399806074062216";
google_ad_slot = "6320223482";
google_ad_width = 200;
google_ad_height = 90;
1. Visit the offer page of lenskart from
HERE
2. Click on " INVITE FRIENDS " and login with your google account.
3. Click on " INVITE FRIENDS VIA GMAIL " and again click on your account.
4. Now select 100 email ids and send invite them.
(If you don't have 100 email ids saved in your address book of that gmail account then you have to write your friends email like this in the box :
xxx@gmail.com, yyy@gmail.com, zzz@gmail.com
Yes, its hard to write 100 correct gmail ids and you can not repeat same email id…good luck…)
5. As soon as you send invite to them you will get voucher code in your gmail.
6. Now redeem the code at book my show app or web.
You will get only 1 time voucher in 1 gmail id…so change your browser and again send invites from different gmail accout to different friends !
Terms and conditions from lenskart :
1. Offer is valid only when 100 or more friends are referred.
2. Offer will be applicable only when the referred email ids are unique.
3. Only valid on book my show.
4. Voucher received can only be used once
6. Only one voucher will be provided to referrer irrespective of no. of friends invited.
7. Offer may vary from time to time based on Company's discretion.
8. All other Website Terms and Conditions apply.
Hope you will understand and enjoy the offer…
UNLIMITED TRICK :
The Unlimited trick was found by Tushar Garg – a member of CoolzTricks team.
For pc users :
1. Open chrome and start incoginto mode.
2. Login to new gmail account.
3. Go to HERE
4. Enter any real gmail id that exists on gmail and in which you have not sent any lenskart request.
5. You will see lots of email ids.
6. Select and Copy about 100+ email ids.
7. Open your new gmail account and click on " COMPOSE " to compose email.
8. Write as below.
To : <paste copied content>
Subject : xxx (anything)
Compose email : yyy (anything)
9. Send email and then click HERE
10. NOW DO 2 TO 6 STEPS OF GENUINE TRICK.