LOOT OF THE DAY:-GET RS.50 SHOPCLUES WALLET BALANCE AKA CUEBUCKS ABSOLUTELY FREE FOR COMPLETING SIMPLE SURVEY
Hello amigos,
Here is another loot offer after
Hike Free 3G data Loot
for all of us. Shopclues offering
free Rs.50 cueBucks wallet balance
for absolutely free all we have to do is just feel simple survey made by them..

google_ad_client = "ca-pub-1399806074062216";
google_ad_slot = "6320223482";
google_ad_width = 200;
google_ad_height = 90;
Shopclues sending emails about Their FeedBack survey. If you have already registered on shopclues and haven't got their email about same you can easily follow our Procedure to Get free Rs.50 from shopclues.
This shopclues survey offer is for limited time period so be fast..and fill out this smallest 1 min survey..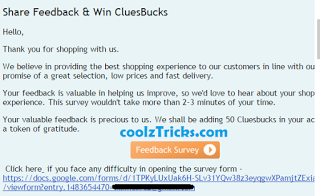 HERE IS HOW TO GET FREE RS.50 IN SHOPCLUES WALLET
1. 1st of all you have to open this Survey page- [
click here
]
2. Now just enter your shopclues Registered Email id in 1st email box
3. Next complete and tick all details asked in form
4. Now after doing all just submit your feedback
5. You will get popup message like this from shopclues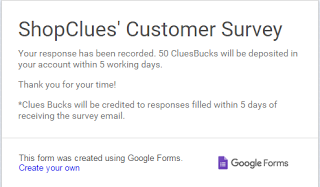 6.done
7. Free Rs.50 will be added in shopclues wallet in the form of cuebucks
google_ad_client = "ca-pub-1399806074062216";
google_ad_slot = "6320223482";
google_ad_width = 200;
google_ad_height = 90;
ENJOY FREE RS.50 SHOPCLUES WALLET BALANCE AKA CLUEBUCKS ABSOLUTELY FREE FOR COMPLETING SIMPLE SURVEY