EARN UNLIMITED FREE RECHARGE 10 Rs. / SHARE BY "BIKEDEKHO" APP – FREE RECHARGE APP AUG' 15
Hello Friends,
Here i m introducing one more app to earn free recharge easily.
You can earn 10 Rs. / share (upto 1000 Rs.)
You can redeem it to recharge.
This app is special because unlike other apps in this app u have to share and register only…no need to do any other actions…
As soon as your friend register via your link u will get 10 Rs. Balance in the app.
HERE IS WHAT "Bikedekho" app IS ABOUT
Bikedekho app is very useful app to those who are looking for new as well as used bikes for themselves.
Also, u can sell bike and compare bikes also.
The app has rewarding system of recharge as i have mentioned above.
so follow very simple below steps to get free recharge.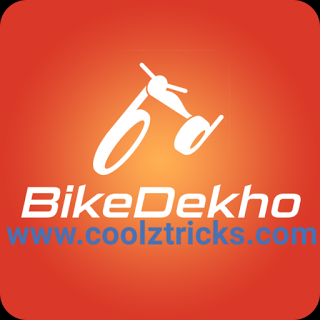 google_ad_client = "ca-pub-1399806074062216";
google_ad_slot = "6320223482";
google_ad_width = 200;
google_ad_height = 90;


HOW TO EARN FREE RECHARGE : ~
1. 1st of all download BIKEDEKHO app [
CLICK HERE
]
2. Click on menu situated in top left corner of the app.
3. Click on "SHARE AND EARN"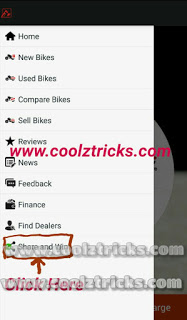 4. Share to your friends and get 10 Rs. / share
5. When u reach a minimum amount of 50 Rs. U can redeem as recharge.
HERE IS HOW TO GET UNLIMITED RECHARGE FROM BIKEDEKHO APP
1. 1st of all download Bikedekho app from here [
CLICK HERE
]
2. Now note down your refer link from it
3. Now just Open Donkey Guard app and Accept All Terms and Slide it to left and tick Intercept New Installed Apps just like below image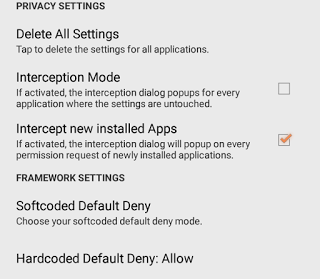 4. Now change the IMEI with IMEI changer app
5. After changing IMEI download BikeDekho From your Refer link
6. Open that app and pop up will come like below image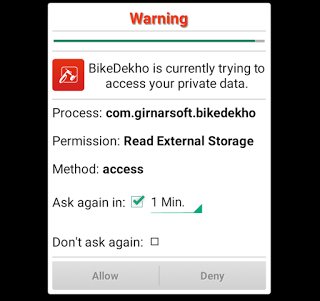 7.Variable Name
–
Settings
( just Tick on
Don't Ask Again Checkbox
on apply for All Settings)
Device ID – select it Random
Android ID – select it Random
Network State – Allow
Accounts – Allow
Read External Storage – Allow
Write External Storage – Allow


Phone Number – Deny
GPS and Network Info – Deny
Switch Wifi State – Deny
Wifi Info – Deny
8. Now open the app normaly
9. You will get 10 Rs. in main account
10. Now disconnect internet connection of your mobile and simply clear BikeDekho app data.
11. Repeat step 3-10 again and again for unlimited loot
HERE IS THE PROOF : ~
Must Try This:- Earn TalkTime Unlimited Recharge Refer & Earn Trick
So friends , SHARE MORE … EARN MORE …
Don't forget to share this post and also like fb page
Click Here
google_ad_client = "ca-pub-1399806074062216";
google_ad_slot = "6320223482";
google_ad_width = 200;
google_ad_height = 90;
ENJOY AND EARN FREE UNLIMITED RECHARGE WITH BIKDEKHO APP – FREE RECHARGE APP JULY' 15