LOOT DEAL-GIVE MISSCALL AND GET EBAY 200 OFF ON 220 RS. EXCLUSIVE CODE (NEW USERS)-AUG'15
Hi guys,
Here is another loot of the day after mobikwik 300 cashback on 300 for Lumia, Ebay well known online shopping website is giving away 200 off on 220 ebay codes for just giving misscall for new users.
You can use this 200 off on 220 cashback ebay codes on ebay.in website if you are purchasing for 1st time. You can buy mobile covers, screen guards, etc. for just 20 rs. or free if you pay with Mobikwik wallet as mobikwik is giving 10% off on ebay so this is loot deal.
google_ad_client = "ca-pub-1399806074062216";
google_ad_slot = "6320223482";
google_ad_width = 200;
google_ad_height = 90;
HERE IS HOW TO GET EBAY 200 OFF ON 220 CODE
1. 1st of all you have to VISIT THIS PAGE TO GET WITHOUT MISSCALL-
[CLICK HERE]
OR give misscall on below number
02233598576
2. you will get successful exclusive code message like below just instantly in your inbox.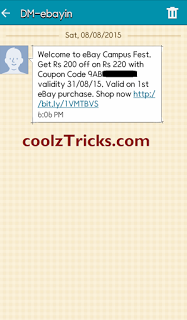 3. once You got the code click here to go to ebay-[click here]


4. purchase any item and apply your code
5. choose Mobikwik as payment mode to get extra 10% cashback on Mobikwik.
5. bingo Enjoy this loot
if you are not getting code sms from your number then try from another number
Enjoy Looting This Limited Time Offer.
HERE ARE SOME LOOT DEALS FOR THIS OFFER
1. Park Avenue Cool Blue Deodorant Spray – For Men(150 ml)
PRICE 25 Rs. – [
click here
]
2. Axe Signature Suave Body Perfume – 122 ml (For Men)
price 50 Rs. -[click here]
3. OTG-PENDRIVE COMBO DEVICE ,USE AS A OTG PENDRIVE WITH A MEMORY CARD READER
price 99 Rs. -[click here]
4. CADBURY BOURNVITA LIL CHAMPS – 500 GMS
price- 50 Rs. -[click here]
5. Mobile Camera Bluetooth Remote Shutter/ Shooter Shutter
price- 50 Rs. -[click here]
google_ad_client = "ca-pub-1399806074062216";
google_ad_slot = "6320223482";
google_ad_width = 200;
google_ad_height = 90;
Enjoy LOOT DEAL-GIVE MISSCALL AND GET EBAY 200 OFF ON 220 RS. EXCLUSIVE CODE (NEW USERS)-AUG'15