BIGGEST DHAMAKA OF 2015 PAYTM H@CK TRICK TO GET FREE RS.500X6 MONTHS=3000 RS. RECHARGE FOR FREE WITH THIS GALAXY E5 E7 TRICK- JULY 2015
UPDATE:- OFFER AGAIN WORKING FOR THOSE WHO GOT PAYTM CASH IN 1ST MONTH
HI GUYS,
Recently I have got many comments on our various posts from our beloved Readers to Post any Big Dhamaka Unlimited Recharge Trick.So here is paytm unlimited kind of Trick you waiting
Samsung is running a deal offer with paytm where paytm is giving 500 recharge every month till 6 months=3000 recharge for GALAXY E7 users and same 400 recharge every month till 6 months=2400 recharge for GALAXY E5 users.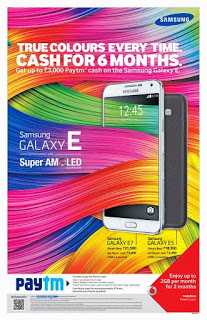 Here is screenshot of This offer from paytm website-
LIN
I Know You are thinking that This offer is not for us and this is only for GALAXY E5 E7 users only……..
No way i got 500 paytm cash in my GALAXY S3 mobile with this trick
Now no more wait,lets start the mega paytm trick
WHAT IS THIS SAMSUNG GALAXY E5 E7 OFFER WITH PAYTM
As I said above samsung partnered with paytm for galaxy E5 and E7 cashback offer wher on every bought of this duo models paytm is giving 500 paytm cash every month till 6 months for galaxy E7 users and same 400 paytm cash every month till 6 months for galaxy E5 users.
You can find more details of this offer on paytm site
HERE
REQUIREMENTS FOR THIS PAYTM RS.500X6=3000 H@CK TRICK
Rooted Android Device
Android Device Control app- CLICK HERE
IMEI NO. OF GALAXY E5 OR GALAXY E7 DEVICE (I have got it from my friend.You can get it from friend or from mall or shop.lol you have to get it for Free 3000 🙂 )
Paytm App
IMEI TWEAK
HERE IS PAYTM DHAMAKA RS.3000 E5 E7 IMEI H@CK TRICK WITH SS-MAY'15
1. First of all download all above given app from given links
2. Open Android Device Control App >> open More >> open Build.Prop and put values like this
If you have Galaxy E7 IMEI then put- SM-E700H
If you have Galaxy E5 IMEI then put- SM-E500H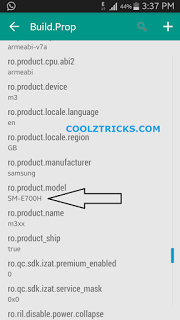 In order to make your device galaxy E5 or E7
3. Now Change and put IMEI OF E5 or E7
4. Reboot your device in order to apply changes
5. Now download fresh Paytm app from playstore
6. Login with Your old paytm id or make new account and make push notification on
7. Done, You will get paytm promo worth Rs.500 or Rs.400 in paytm notification in 24 hrs.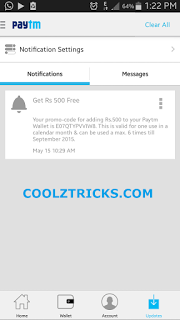 8. open Paytm wallet and put 500 Rs. and apply promo code. voila Rs.500 will be added in your paytm account instantly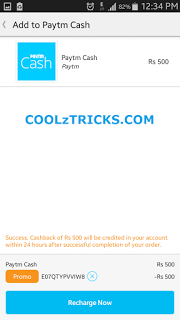 9. Apply same promocode next month to get another 500 rs.
10. Do this till 6 months to get Full 3000 paytm cash
HERE IS SCREEN SHOTS OF PROOF FROM MY GALAXY S3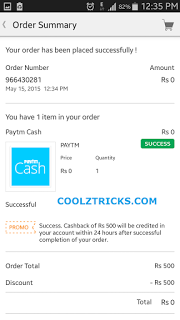 PLEASE NOTE:-
–I am not responsible for anything if you brick your device while Rooting or while applying this paytm free Rs.3000 trick (Though its very less chance)–We dont take any responsibility of any issue.Use our tricks with caution and on your own Risk.
SO GUYS LETS ENJOY PAYTM LOOTING