HOT OFFER OF THE DAY- NOW PAY 50 AND GET 100 IN CITRUS CASH FOR NEW USERS WITH UNLIMITED TRICK ADDED
Hi guys here is another Hot offer of the day now get 50 Rs. Free in bank or in mobile Recharge via citrus cash.
Yes citrus cash having offer of 50 ka 100 where you can get 50 Rs. Free when you Transact with 50 Rs.
google_ad_client = "ca-pub-1399806074062216";
google_ad_slot = "6320223482";
google_ad_width = 200;
google_ad_height = 90;
HERE IS HOW TO GET 50 KA 100 CITRUS CASH OFFER
1. Download "Citrus Cash" app [ CLICK HERE ] and Register a new account.
2. Go to menu, click load money and add minimum 50 ₹ via given payment methods i.e. debit card.
3. Download "Citrus Cube" app [ CLICK HERE ]
4. [ MOST IMPORTANT STEP ] Do mobile recharge or DTH recharge or bill pay of minimum 50 ₹
For mobile recharge :
Open Citrus Cube app and click on MOBILE , click on add account and enter your mobile details and in Remind Me option select "none" then give a random name in "Save as" option and then click "save & pay" then select citrus wallet to pay and you will get 50 ₹ recharge on your entered mobile number.
For DTH recharge :
Open Citrus Cube , click on DTH and enter details and in "Remind Me" option select "none" and give a random name in "Save as" option then click on pay and pay via citrus wallet cash
For other bill pay :
Do the same process as above in "For DTH recharge" but enter your bill details instead of DTH details
5. You will get Cashback of 50 ₹ as citrus wallet cash in 3 days.
Here is the proof :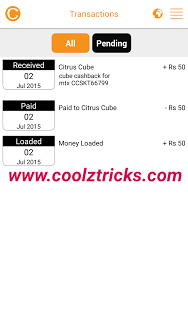 6. U can use remained citrus cash to recharge And bill pay And also transfer it to your bank account And U can redeem it at citrus cash's partners i.e. shopclues
Here is How to transfer citrus cash to bank account
U have to open Citrus Cash app and click on menu and click on "withdraw money" and follow on-screen instructions..
[ THE PAYBACK OFEER IS VALID TILL 15TH JULY, 2015 AND NO COUPON CODE REQUIRED ]
UNLIMITED TRICK
We are trying unlimited trick and update it soon.
google_ad_client = "ca-pub-1399806074062216";
google_ad_slot = "6320223482";
google_ad_width = 200;
google_ad_height = 90;
ENJOY THIS HOT OFFER OF THE DAY- NOW PAY 50 AND GET 100 IN CITRUS CASH FOR NEW USERS WITH UNLIMITED TRICK ADDED