TRICK OF THE DAY:-GET RS.50 AMAZON GIFT CARDS BY INSTALLING MYSMARTPRICE CHROME EXTENSION WITH UNLIMITED TRICK-PC USERS
Hi guys,
Today i am going to post another Gift vouchers Trick after Flipkart unlimited Gift Vouchers Dhamaka. All know that Mysmartprice always gives free recharge and gift vouchers to promote their extensions Now they have come up with Amazon Free Rs.50 Gift Vouchers offer.
As this offer is only for pc chrome users , All You have to do is just install MySmartPrice Google Chrome Extension and they will reward you with Rs.50 Free Amazon Gift voucher.
Now in this post i am going to post mysmartprice unlimited free amazon Rs.50 gift voucher trick. If you have many mobile numbers then you can have real loot of Rs.50 Amazon Gift Vouchers.
google_ad_client = "ca-pub-1399806074062216";
google_ad_slot = "6320223482";
google_ad_width = 200;
google_ad_height = 90;
HERE HOW TO GET RS.50 AMAZON GIFT CARDS BY INSTALLING MYSMARTPRICE EXTENSION
1. 1st of all go to this link of chrome mysmartprice extension-[
click here
]
2. Now you can see offer pic like below just click that and click on add to chrome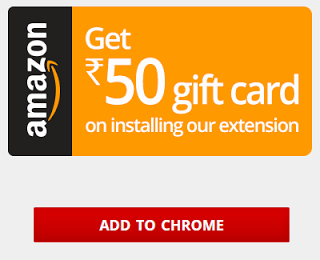 3. After successful installation a popup box will come up, just fill your mobile number and email address
4. Now you will get OTP sms in your mobile and Coupon Link In your email.
5. Now After 72 hours, Click on Link of your Mail & Click on AVAIL COUPON Button and Enter the same OTP Code which you Have got in your Mobile
6. Done you will get 50 rs Amazon Gift Card.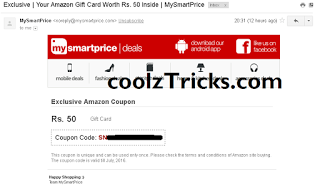 HERE IS HOW GET UNLIMITED RS.50 AMAZON GIFT CARDS
1st of all get voucher code and your refer code from above offer
now uninstall google chrome from your pc and delete all its file from c folder like cookies,cache,history etc.
Now press win+R to open Run and type REGEDIT
There you will find many options but just double Click on HKEY_CURRENT_USER
then Double Click on Software – Google
Now just Right Click on "Google" & Click on Delete, Then Yes
Then restart your Computer/laptop Then Install Google chrome again in it
Again install mysmartprice with your refer link and put another new mobile number and Email id
follow above steps again and again to get unlimited Rs.50 Amazon gift vouchers from mysmartprice
Enjoy
Trick 2 to get unlimited Rs.50 Amazon vouchers from mysmartprice:-
this is for those who dont want to install and unistall chrome again and again
just make many new admins (users) tabs in your computer
install chrome in all
install mysmartprice extension in all
done
google_ad_client = "ca-pub-1399806074062216";
google_ad_slot = "6320223482";
google_ad_width = 200;
google_ad_height = 90;
ENJOY THIS GET UNLIMITED RS.50 AMAZON GIFT CARDS BY INSTALLING MYSMARTPRICE EXTENSION TRICK