FREE UNLIMITED CALLING WORKING WITH ALL OPERATORS ALL INDIA *1st on net*- FREE CALLING TRICK
Hello Guys,
Today is a pleasant day and i am coming with
an awesome Free unlimited calling trick 2015 that you will love a lot.
By this trick you can call from any operator to any operators all over India For just free of cost unlimitedly.
Yes, you heard right …and its possible, Now you can call all over india freely as this free calling Trick working in all operators like Airtel, Vodafone, Idea , Reliance , Docomo , Uninor, Bsnl and all others
just follow the below steps which i will
mention here and then you can call 100% free to all over india
What is Free Unlimited CAlling FREEKALL APP?
Freekall doesn't require 3G or Wifi for the call once you select a
contact you will get a call back and get through to the other person
quality is just like your operator calls and doesn't require internet.
However you will need negligible amount of packet data to initiate the
call back.
Follow the simple steps:-
This trick will work on only ROOTED DEVICES
1. Download the edited version of FREEKALL app from u [click here].(open in chrome)
2. Download the Android ID Changer from u [click here].
first of all download the FreeKall app and install it in your android phone,
Now signup with your mobile number
Freekall will automatically verify your number via callback, or login if you are already on FREEKALL.
Now open freekall app and see you get some credit like 5-10 INR 
3. Just click on symbol of Indian rupee given in the image.




4. Click on DOWNLOAD APP TO EARN.


5. You will see the Earn Free Call Credits, then click on app listed below,you will reflected to
 play store and download the given app, you will get credits.(shows in given image)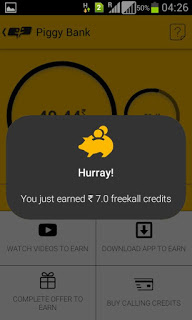 6. You should create a .APK File of these applications by this app. 
HERE IS FREE UNLIMITED CALLING TRICK 
8. Open FREEKALL you will see the all offers again in download section, click on any app you reflected to play store this time no need to download the app, just go to your .APK File (where you are saved) and install the app.
Just repeat the steps 7&8 again n again and earn UNLIMITED FREE CALL
enjoy this Airtel, Vodafone, Idea , Reliance , Docomo , Uninor, Bsnl free unlimited calling Trick 2015
NOTE:-You should use unlimited but not kepp more than 49 balance in your Freekall account
 ENJOY FREE UNLIMITED CALLING WORKING WITH ALL OPERATORS ALL INDIA *1st on net* FREE CALLING TRICK