HERE IS DHOOM OFFER OF THE DAY:- JUST DOWNLOAD QIKWELL ANDROID APP AND GET FREE RS.25 IN PAYTM WALLET
Hi, Today i am going to tell you the offer which will surely make your day today.yes an app is giving away free paytm cash by just refer and they are giving away Rs.25 per refer. and best thing is that you can make unlimited paytm cash by referring your friends.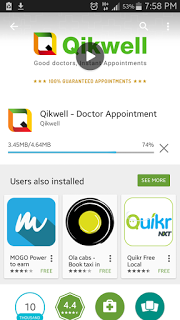 google_ad_client = "ca-pub-1399806074062216";
google_ad_slot = "6320223482";
google_ad_width = 200;
google_ad_height = 90;
WHAT IS THIS QIKWELL APP?
Qikwell have a unique solution which clinics and hospital installs to ensure a pleasant patient experience. This includes information on doctors, live information on doctor's availability, online appointment booking, instant appointment confirmation, delay/or schedule change notifications and fair & transparent queueing system. Qikwell also helps you keep in touch with your doctors — simple queries that may not warrant a visit can be answered by your doctor.
HERE IS HOW TO GET FREE RS.25 PAYTM CASH WITH QIKWELL APP
First of all you have to Download Qikwell App – Click here
After Download Successfully just Install it and Open it.
it will ask for verification just verify using Mobile Number.

Now you have to Enter your Name ,Email , DOB and Gender etc.
Now in next page Enter Promo Code –HNEJ59

WITHOUT PROMOCODE YOU WILL NOT GET 25 RS.
Now You will receive Rs.25 in your Paytm wallet within 2 hours
DOWNLOAD IT AND MAKE AS MUCH PAYTM CASH AS YOU WANT WITH QIKWELL APP
google_ad_client = "ca-pub-1399806074062216";
google_ad_slot = "6320223482";
google_ad_width = 200;
google_ad_height = 90;