Here is Must know Reasons why WhatsApp Video Calling Activation SMS circulating in WhatsApp is 100% Fake and Scam
WHATSAPP IS POPULAR ONLINE MESSAGING CHAT APP OF THE WORLD WITH BILLIONS ACTIVATION
AND SAME FACT ATTRACT THE SPAMMERS TO FOOL PEOPLES ON WHATSAPP TO MAKE QUICK MONEY BY ADVERTISING WITH FAKE SMS
google_ad_client = "ca-pub-1399806074062216";
google_ad_slot = "6320223482";
google_ad_width = 200;
google_ad_height = 90;
IN LAST FEW MONTHS HACKERS AND SPAMMERS SUCCESSFULLY FOOLED MILLIONS INNOCENT PEOPLES ON WHATSAPP WITH "FAKE VOICE CALLING ACTIVATION MESSAGE " WITH FAKE SITE
NOW THEY ARE TARGETING SAME ACTIVITY WITH "FREE VIDEO CALLING ACTIVATION MESSAGE"
WHAT IS WhatsApp VIDEO ACTIVATION MESSAGE
NOWADAYS SPAM AND FAKE MESSAGE CIRCULATING IN POPULAR APP WHATSAPP BY INNOCENT WHATSAPP USERS, LIKE THIS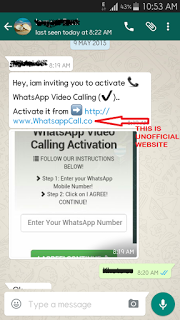 Hey ,iam inviting you to activateWhatsApp Video Calling (_)Activate it from http://whatsappcalling.co
Here users were asked to invite 10 of their Friend in whatsapp to activate this FAKE video calling.
By This message spammers and hackers Redirect users to some private fake website to earn money through Advertisement of that Fake site
This fake site collects your country and mobile number. They may sell your this details with advertising agencies.
HERE IS REASONS WHY WHATSAPP VIDEO CALLING SMS IS FAKE
1. 1st THERE IS NO OFFICIAL CONFIRMATION OR ANNOUNCEMENT FROM WHATSAPP ON THEIR OFFICIAL WEBSITE ABOUT VIDEO CALLING FEATURE
2. IN RECENT CONFERENCE IN SAN FRANCISCO WhatsApp co-founder SAID THAT THEY ARE STILL TESTING VIDEO CALLING FEATURE
3. WhatsApp HAVE THEIR OFFICIAL WEBSITE THAT IS
www.whatsapp.com
AND THEY MAKE ALL NEW ANNOUNCEMENT THEIR ( so dont click any other website then this official website)
4.WhatsApp WILL NEVER WANT YOU TO COMPLETE SURVEY AND CLICK ADS IN ORDER TO GIVE OUT AN INVITE
5. THERE IS NO NEED FOR WHATSAPP TO CIRCULATE THIS KIND OF INVITE MESSAGE TO THEIR USERS AS THEY CAN ACTIVATE IT WITHOUT ANY MESSAGE SAME LIKE VOICE CALL FEATURE
google_ad_client = "ca-pub-1399806074062216";
google_ad_slot = "6320223482";
google_ad_width = 200;
google_ad_height = 90;
SO BE AWARE:-
NEVER PROVIDE YOUR PERSONAL INFO LIKE MOBILE NUMBER AND NAME WITH OTHERS
ALWAYS TRUST ON www.whatsapp.com only AS THIS IS OFFICIAL SITE
USE YOUR MIND BEFORE CIRCULATING THIS KIND OF SMS
STAY SAFE….