Easemylife APP IS GIVING RS.10 FREECHARGE CODE FOR JUST SIGN UP + HERE IS SURPRISE RS.10 RECHARGE FROM COOLZTRICKS-MAY'15
Easemylife on demand concierge service App is giving Rs.10 recharge for just downloading and sign up in app.
you will rs.10 freecharge code in your mail just instantly.
google_ad_client = "ca-pub-1399806074062216";
google_ad_slot = "6320223482";
google_ad_width = 200;
google_ad_height = 90;
WHAT IS Easemylife App?
You can use Easemylife app to find and book a skilled workman on demand plus other concierge services like Electricians, Plumbers, Carpenters, Painters, Masons, Peons, Pest Control, AC Technicians, Inverter Technicians, Car Mechanics, Car Cleaners, Gardeners, Doctors etc around your place with Easemylife app.
HERE IS HOW TO GET FREECHARGE CODE FROM Easemylife App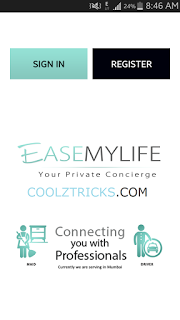 Download Easemylife app from- click here
open the app and click on sign up
imput your details like email,mobile,name
put your valid mobile number
it will verify your mobile number
done
check your email for Rs.10 FreeCharge code
YOU MAY LIKE IT:- (*HOT*)Here is All Network Working Balance Transfer Tricks


PLEASE NOTE:-
This is not a FREECHARGE freefund code and IT cannot be added to freecharge credits. This is a direct Recharge code.
YOU WILL BE CHARGED FOR 1ST OTP SMS
google_ad_client = "ca-pub-1399806074062216";
google_ad_slot = "6320223482";
google_ad_width = 200;
google_ad_height = 90;
HERE IS SURPRISE FREE RECHARGE GIFT FROM COOLZTRICKS
FROM NOW AFTER EACH NEW POST WE WILL GIVE FREE RECHARGE TO OUR BELOVED LOVERS
1ST 10 COMMENTATORS HERE WILL GET RS.10 FREE RECHARGE EACH
ALL MUST HAVE TO SHARE THIS POST IN FB ,, +1 IN GOOGLE INORDER TO GET RECHARGE (Likes buttons are below post)
YOU MUST HAVE TO COMMENT FROM GOOGLE ID
ONE ID ONE RECHARGE
COMMENT DOWN YOUR MOBILE NUMBER, STATE & SIM NAME
RECHARGE WILL BE DONE IN 3-4 HRS
ANONYMOUS COMMENTATORS WILL NOT GET RECHARGE
ENJOY….OUR FREE RECHARGE FESTIVAL