UNLIMITED FREE RECHARGE TRICKS GET UNLIMITED FREE RS.50 RECHARGE PAYTM COUPONS FROM GAANA APP
Hi guys, its me here again with some great free recharge tricks for you, so everyone know that gaana app is giving free rs.50 paytm coupons for registering with facebook.many of us tried it and havent got success.
Today i will give you A best free recharge tricks to get rs.50 paytm coupons without login with facebook.
REQUIREMENTS TO GET FREE RS.50 PAYTM COUPONS:
1. Unused android mobile on which you have not getting code
2. gaana android app-
3. paytm mobile app-
4.a good brain lol
SO HERE IS TRICK:
1st of all download and install gaana app in your mobile
STEP 1:
open fakemailgenerator in chrome browser-
click here
and get fake email id and copy that email id from it like below image
main thing is dont close this site
STEP 2:-
open gaana app and put this fake email id in last folder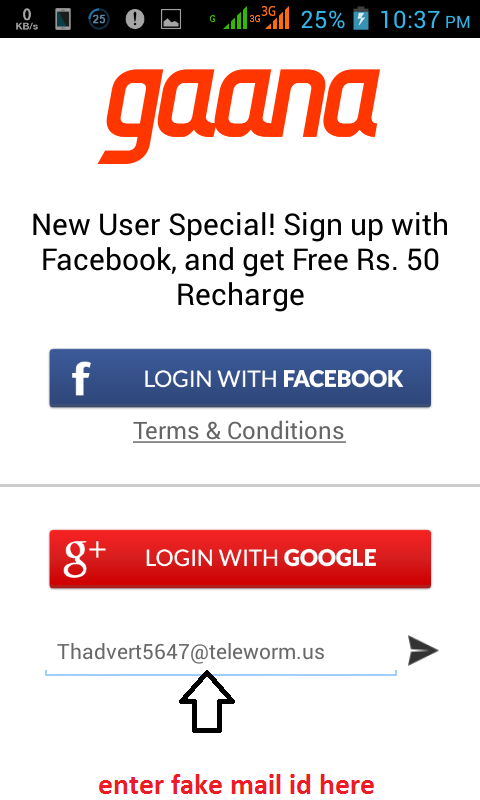 STEP 3:
google_ad_client = "ca-pub-1399806074062216";
google_ad_slot = "6320223482";
google_ad_width = 200;
google_ad_height = 90;
go click advance and fill out the form with fake details
STEP 4:-
submit agree and wait to come mail in fakemailgenerator site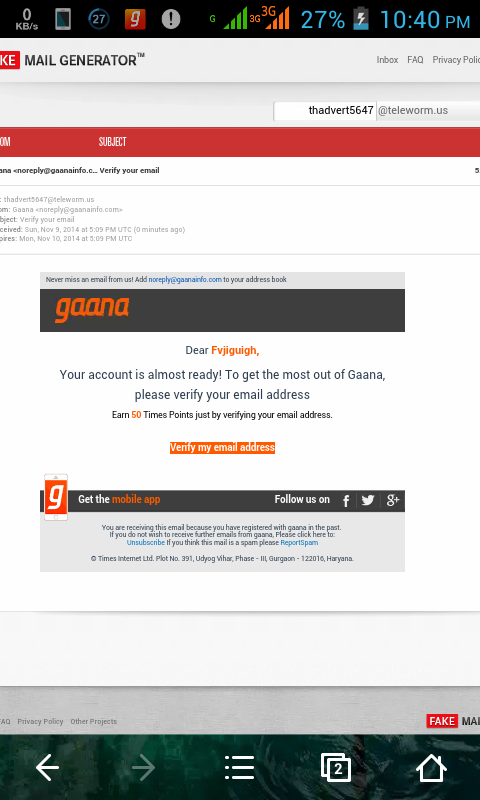 A 1st MAIL will come in fakemailgeneretor site to verify gaana account > do it verify and wait for
some time then you will get rs.50 free recharge paytm coupons code in second mail from gaana
.
STEP 5:
OPEN PAYTM APP and put that code
success you will get rs. 50 free recharge from it
PLEASE NOTE THAT:
1. THIS FREE RECHARGE TRICKS IS ONLY FOR MOBILE THAT HAVENT USED BEFORE
2. FREE PAYTM COUPONS CODE WILL WORKS ONLY IN ONE MOBILE NUMBER YOU CANT GET MORE ON ONE MOBILE NO.
NOW HERE IS HOW TO GET UNLIMITED FREE RECHARGE CODES FROM THIS TRICK
install YOUWAVE android emulator and repeat the above given steps again and again…..do remember do factory reset after completing once…
SO TRY THIS NOV 2014 FREE RECHARGE TRICKS AND GET UNLIMITED FREE RS.50 PAYTM COUPONS BY IT….DO COMMENT BELOW IF YOU NEED SOME HELP
THANKS,